Britons Leave Their Holiday Shopping to the Last Minute
by
Retailers reported blip in sales ahead of holiday season

Consumer spending remains driving force behind U.K. growth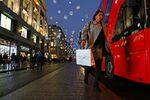 U.K. retailers had fewer sales than expected this month as shoppers held back before an anticipated splurge in December.
A gauge of monthly sales fell to 7 in November from 19, the London-based Confederation of British Industry said on Tuesday. While that's the weakest reading in nine months, the CBI's survey shows retailers expect an increase to 31 in December. A quarterly gauge of the business situation fell to 11, the lowest reading since February.
The report adds to evidence that Britons are refraining from spending this month ahead of the holiday season. Consumers have been the main driving force behind U.K. economic growth and the Bank of England predicts real income growth will be the strongest since the crisis this year.
Record employment, improving wages and negative inflation are putting money in the pockets of shoppers, which is likely to sustain consumer spending. Data Friday will show what drove growth in the third quarter.
Before it's here, it's on the Bloomberg Terminal.
LEARN MORE