Bomb Strikes Tunisia Presidential Guard, Killing at Least 12
by and
Another 17 injured in attack in center of capital Tunis

Suicide bomber thought to have boarded guards' bus: official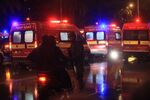 At least 12 people were killed when a bus carrying Tunisian Presidential Guards was struck by a bomb in the country's capital on Tuesday.
Another 17 people were injured, said an official who wasn't authorized to speak publicly. The attack, on Avenue Mohamed V in central Tunis, is thought to have been carried out by a suicide bomber who managed to board the bus and detonate his explosives, according to a security official who also asked not to be identified.
President Beji Caid Essebsi, in a televised address, declared a 30-day nationwide state of emergency as well as an overnight curfew in the capital.
Tunisia, often described as the sole success story of the Arab Spring revolts, has experienced several attacks by Islamist extremists, including a mass shooting at a beach resort this year that targeted foreign holidaymakers and damaged the country's tourism industry.
That assault and an earlier one at the Bardo Museum in Tunis were claimed by Islamic State, which has taken root in neighboring Libya as government authority there collapsed after the overthrow of Muammar Qaddafi.
Tunisia's interior ministry said last week that it had foiled a major attack planned for this month against hotels, police stations and security centers. Kalashnikov rifles, explosives and a bomb belt were seized when a cell of 17 militants was broken up, it said.
Before it's here, it's on the Bloomberg Terminal.
LEARN MORE