Bank of America: The S&P 500 Is Going to Hit 3,500 by the Year 2025
An S&P 500 index of 3,500 might not be so far way.
by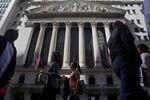 Bank of America Merrill Lynch is the latest bank to throw its proverbial hat into the year-ahead outlook ring.
Savita Subramanian, head of U.S. equity strategy and U.S. quantitative strategy, has forecast that the Standard & Poor's 500-stock index will reach 2,200 in 2016. She also included a target of 3,500 by the year 2025. As of now, the index is hovering a little below 2,100.
For next year, Subramanian says to "stick with the S&P 500," despite valuations having less room to run and a long-in-the-tooth bull market in equities heading into its seventh year. "We expect modest gains for U.S. large cap stocks in 2016: the likelihood of a recession in the next 12 months is low in our view," the analyst added. Neither valuations nor the economic data look particularly worrisome when compared with previous peaks in the market, according to BofAML.
Going beyond the next 12 months, however, things really look good.
Subramanian and her team pointed to a nearly 70 percent rise by 2025. 
"Based on current valuations, a regression analysis suggests compounded annual returns of 8 percent over the next 10 years with a 90 percent confidence interval of 4-12 percent. While this is below the average returns of 10 percent over the last 50 years, asset allocation is a zero-sum game. Against a backdrop of slow growth and shrinking liquidity, 8 percent is compelling in our view. With a 2 percent dividend yield, we think the S&P 500 will reach 3500 over the next 10 years, implying annual price returns of 6 percent per year."
Other 2016 forecasts include RBC Capital Markets, with an S&P 500 target of 2,300; Goldman Sachs's call for the index to end the year basically unchanged; and Barclays, which agrees with Bank of America's 2,200 target for the next 12 months. 
Before it's here, it's on the Bloomberg Terminal.
LEARN MORE