Doing Business in a Locked-Down Brussels
by , , and
Some retailers say weekend sales were off by 70 percent

The lockdown could shave 0.1 percent off of Belgian GDP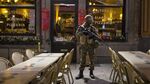 For Tobias Desmet, the Brussels lockdown can be measured in parking spaces.
With few people showing up for the antique market that's held near the Place Sablon every weekend, "You could park your car anywhere on the main square the past few days," the classical sculpture dealer said. "That never happens."
Welcome to the weird world of lockdown. As Brussels endures a fourth day of a government-ordered shutdown of the metro, schools, and shopping centers, it offers a cautionary tale for business and government centers worldwide as concern over terrorism grows.
Companies have asked many employees to work from home. Malls look like military encampments, with armed guards and even armored personnel carriers patrolling the streets. Restaurants that might be struggling as staff can't make it to work say it's no big deal, because customers aren't coming either.
At the Exki sandwich shop across the street from the offices of the European Commission, the croissant basket was full at noon. Normally it's empty. On the Avenue Toison d'Or, a high-end shopping area, the two-story Zara outlet had a sign on the door saying it was closed due to security considerations. The adjacent Apple store and Marks & Spencer were shut. Across the street, luxury boutiques from the likes of Vuitton and Versace had their shutters down.
Some stores reported sales were down by 70 percent over the weekend, and hotel occupancy is about 30 percent versus the normal 80 percent rate for this time of year, said Peter Vanden Houte, chief economist at ING Belgium. Some conference organizers, including the GSMA, which represents European mobile operators, have called off events scheduled for Brussels.
Still, Vanden Houte says, the longer-term impact won't be dramatic. He expects the terror alert to shave roughly 0.1 percent off of Belgium's gross domestic product for 2015.
"The longer this lasts -- well, people aren't going to avoid going to restaurants for the rest of the year," Vanden Houte said.
The short-term, though, can be tough, especially on small merchants. The operator of a waffle truck at the busy Louise roundabout says he normally sells 400 waffles on a Saturday, but this weekend he barely made 100. On the Place Sablon, three of the eight chocolatiers are closed, and those that are open say sales are off by perhaps a third.
"I have the impression that everybody is scared to leave the house," said Betty, manager of Passion Chocolate on the Sablon, who declined to give her family name.
Delhaize Group, a supermarket chain with about 70 outlets in Brussels, says online orders jumped by about 50 percent after the government on Monday extended the maximum terrorist threat level into next week. The company has closed two of its stores, in malls that were shut, but it says it's too early to say whether there will be a measurable impact on sales.
Umicore SA, a maker of chemicals such as those that go into car batteries and exhaust systems, shut its headquarters in the historic center of Brussels on Monday, though a spokesman said its industrial operations in Belgium -- including a lead smelter and cobalt plant -- were unaffected. While the office opened Tuesday, the company has allowed some employees to continue working from home and is relaxing its normal working hours due to the transit disruptions.
Farther away from the center, little has changed. In Ixelles, a residential neighborhood about 15 minutes by car from the Grand Place, the Gaudron patisserie teems with young parents buying bread, chocolate eclairs, and coffee. One barista said he had to walk an hour to work on Saturday because the metro was closed, but he's now carpooling until trains return to normal Wednesday.
"It's so eerie, it's no surprise no one wants to go out," said Marie-Pauline Melotte, 32, who had popped out to get essential groceries after spending most of the weekend at home. "With so many soldiers, this isn't a great time to be out. Everyone's just hoping it gets back to normal soon."
Before it's here, it's on the Bloomberg Terminal.
LEARN MORE