Airbus Sees Intelligence-Gathering Role for A400M, Tanker
by
Transport and refueling models could get surveillance upgrade

Planemaker proposes `cheap' route to enhanced capabilities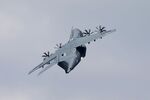 Airbus Group SE aims to offer surveillance and reconnaissance upgrades to its A400M military transport and A330 airborne tanker models as the broadening of the fight against Islamic State prompts governments to seek a shortcut to enhancing their intelligence-gathering capabilities.
The planes could easily be adapted to subsidiary roles, giving operators an alternative to buying specialist aircraft that could take five years to deliver, Fernando Alonso, head of military aircraft at Airbus, said in an interview.
The A330 carries all the kerosene needed for aerial refueling in its wings, leaving scope for developing the cabin and hold. "Can we not put some other equipment in, sensors, intelligence gathering, early warning, so that while the plane is waiting to refuel it can be doing a lot of other things?" Alonso said.
Airbus has orders for 41 A330 tankers from seven nations including Britain, France, Australia and Saudi Arabia, with 26 planes delivered, while the A400M has garnered 174 orders from seven European countries plus Turkey and Malaysia, with 16 handed over. Upgrades would be done in a "simple, cheap way, using modular, off the shelf technology," Alonso said.
Gunship Makeover
The smaller C295 tactical transport is also a candidate for enhancement, he said. Airbus said last year it had won a deal from Jordan to convert one plane into a gunship with air-to-surface missiles and a machine gun and guided rockets from Orbital ATK Inc.
A400M deliveries this year are likely to be at the lower end of a 13 to 17 aircraft range following the loss of a plane in a fatal crash close in Seville, Spain, where the model is made, Alonso said. The company has been in discussions with Occar, which handled the European order, about lifting annual output to 21 to 23 aircraft as early as next year.
Airbus sees a market for another 100 A330 tankers and as many as 300 A400Ms, and aims to win two more export customers for the transport plane over the next two years, Alonso said, most likely from the Middle East and Asia.
U.S. orders for the A400M are also a long-term prospect now that Boeing Co. has decided to stop producing its C-17, and the company has made informal contacts with the air force there, he said.
The development of the A400M for deployment of airborne forces is continuing, with paratroopers able to jump from the plane and engage their own parachutes, but certification not yet in place for the automatic triggering of chutes. Airbus is also seeking approval for a method of extracting payloads from the plane by parachute.
Before it's here, it's on the Bloomberg Terminal.
LEARN MORE