What's in a Corporate Turnaround Plan Name?
Before you can fix a struggling business, you need a catchy title.
by and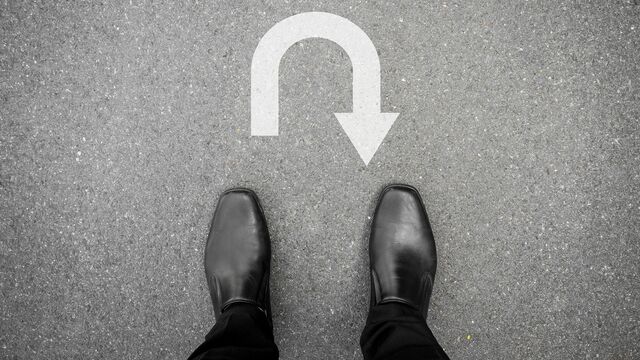 The darkest times in corporate life so often come with puns.
Navistar, a truck manufacturer, promised to fix its problems with a turnaround plan dubbed "Drive to Deliver." South African Airways imagined a better future after completing "Operation Gaining Altitude." A turnaround plan named "Back in the Race" could only belong to an automaker like Peugeot. These are all names of real corporate plans, and behind the playful language almost always lurks an attempt to kick-start the business with layoffs and other painful reforms.
Aston Martin's "Second Century" turnaround plan promises to replace its entire line of cars with new models by the end of the decade. It also involves major restructuring, including the goal of eliminating around 14 percent of the workforce by last month. Best Buy's "Renew Blue," which hasn't so far managed to lift lackluster earnings, led to layoffs for 400 workers at the retailer's headquarters. When Ford introduced its "Way Forward" plan, the automaker slashed 30,000 jobs. 
Other plans adopt grand-sounding names, such as Kohl's "Greatness Agenda" or McDonald's "Plan to Win," but this usually isn't a good sign for the company. "There are different degrees of distress," says Margaret Bogenrief, a partner at turnaround consultancy ACM Partners. "Generally, the more grandiose the name, the more severe the distress."
Bloomberg reviewed the names of more than 30 corporate turnaround plans from the last decade and found that the titles come in several euphemistic flavors. Some go with names that verge on the generic—"Dell 2.0" or "Nissan Revival Plan"—or else call what they're doing a project: "Project RED" (Red Robin), "Project K" (Kellogg's), "Project Compass" (General Mills). Setting time frames is another popular way to name a turnaround plan. Opel's "DRIVE!2022" and Air France-KLM's use of "Perform 2020" make it clear just when the plan should be completed.
Corporations, especially large ones with lots of employees, use these names to prove to workers, customers, and shareholders that they have a real, coherent solution to evident shortcomings. A name such as U.S. Steel's "Carnegie Way" or Duane Reade's "Full Potential" isn't meant to persuade senior executives—it's a balm for store associates, factory workers, and the junior employees living the cubicle life and worrying about the future.
Coming up with a plan worthy of its name, Bogenrief says, is a way for bosses to get workers to buy into something that ultimately might not benefit them. The zippy names are meant to keep people chugging along at work despite the chaos swirling around them. They're essentially marketing the plan to their own workers. "It is important because you do need to keep people on board for whatever length of time you need," says Bogenrief. "You need to create a united front and make everybody within the organization think we're all in this together."
When Alcatel-Lucent implemented its "Shift Plan" in 2013, the company was nearing bankruptcy and had already been through previous restructuring plans. "One thing we decided from the beginning is this cannot be another restructuring plan; it has to be much more," says Philippe Guillemot, the chief operating officer at Alcatel. Inside the organization, he adds, "there was restructuring fatigue." To elevate the plan and signal that it would "definitely transform the company," Guillemot describes a concerted effort to come up with a weighty name.
The word "shift," Guillemot believes, not only signals a change in direction—it's a metaphor. "It's like a boat," he explains. "The exact English term is tack. You tack the boat in order to get the right wind to move forward and get momentum. Tack was not a nice word that people will understand. That's why we use shift to express this idea that at some point you move the company, you shift the resources in order to capture market trends wind in order to make the company back on market share gains and get the momentum."
In addition to the main goals outlined on Alcatel-Lucent's corporate website, the Shift Plan included a push to cut 10,000 jobs. This April, meanwhile, Nokia agreed to acquire Alcatel-Lucent. 
At Aston Martin, a spokesman for the luxury automaker was willing to elaborate on how "Second Century" signals a long-term commitment. The storied British company has survived seven bankruptcies since its founding in 1914. "There was a desire not to give a plan a name that lasted a year," said spokesman Matthew Clarke. "What we do now will shape what we do the next 100 years."
Why do executives even bother with the big names? It works, says Bogenrief. "In these turnaround situations, it is an extremely emotional and difficult experience," she says. "I understand why you'd put that gauze in front of it."
From the point of view of companies trying to change, a good name can seem indispensable. "It needs a name, it needs to resonate with all of our stakeholders, and everyone needs to understand it," says Clarke. "These things need names."
Before it's here, it's on the Bloomberg Terminal.
LEARN MORE