Ukraine Suspends Cargo Traffic to Crimea After Blasts Cut Power
by , , and
Government to consult with Tatars on supplies to peninsula

Tatar leader demands Russia release political prisoners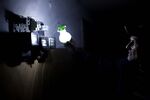 Ukraine temporarily suspended cargo traffic to Crimea as protesters blocked authorities' efforts to restore power to the peninsula after explosions plunged almost two million people into darkness on Sunday.
Ethnic Tatars from the territory, which Russian President Vladimir Putin annexed from Ukraine last year, have blocked trucks from entering since last week. They said on Monday that talks to restore power can resume after Russia releases political prisoners. Workers can return electricity to the Black Sea peninsula within 72 hours of gaining access to the site, Ukrainian Energy Minister Volodymyr Demchyshyn said at a government meeting.
"There can't be a free economic zone in territories where bandits rule and where human rights are rudely violated," lawmaker and Crimean Tatar leader Mustafa Jemilev said at the government meeting. Prime Minister Arseniy Yatsenyuk's administration will consult with the Tatars on what kinds of goods can be allowed to pass into Crimea, the government said in an e-mailed statement.
The dispute lays bare the simmering conflict between Ukraine and Russia, which authorities in Kiev accuse of stoking an almost two-year-long separatist war that's hammered the former Soviet state's economy and killed more than 8,000 people. Both sides accuse the other of violating a cease-fire that's reduced the level of violence seen earlier this year. At the same time, Russian President Vladimir Putin is trying to overcome frayed ties with the U.S. and European countries to form an alliance to fight Islamic State.
Ukraine's hryvnia gained 0.7 percent as of 4:20 p.m. in Kiev to 23.95 against the dollar. The yield on Ukraine's dollar-denominated bond maturing in September 2020 was five basis points higher at 8.839 percent.
Crimea Divide

Crimea should prepare "for the worst," and power supplies may not return to normal until Russia starts delivering electricity from its southern Krasnodar region on Dec. 22, Crimean Prime Minister Sergei Aksenov said in comments aired by Russian News Service radio on Monday. Ukraine's southern Kherson and Mykolayiv regions are also experiencing power failures.
The cables were probably damaged by antitank mines, Kherson Governor Andriy Putilov on Friday. Two police officers were attacked by demonstrators near the site and a repair crew was thwarted by the demonstrators pushing for an economic blockade, Ukraine's Interior Ministry in Kiev said Sunday.
The Tatar community has complained some of its members have been jailed and gatherings have been banned, along with other forms of political oppression, since Russia's annexation. In September, the Organization for Security and Cooperation in Europe said Russia's annexation has given rise to the restrictions of fundamental freedoms and human rights.
Russia has no information on the steps Ukraine is taking to restore power to Crimea and hopes they'll be "energetic," Interfax reported on Monday, citing Kremlin spokesman Dmitry Peskov. Crimea is using its own power resources, covering about a third of the region's needs, according to the Russian Energy Ministry.
Before it's here, it's on the Bloomberg Terminal.
LEARN MORE