Tokyo Authorities Investigate After Fire in Toilet at War Shrine
by and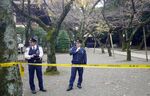 Authorities in Tokyo are investigating after a fire in a public toilet at Yasukuni Shrine, which commemorates millions of Japan's war dead, including leaders convicted as Class A war criminals.
The city's Fire Department received a call at 10:01 a.m. this morning about the incident at the shrine, where a festival called the "Festival of First Fruits" was scheduled to start at 10 a.m. The caller reported the sound of an explosion, the department said by phone.
Preliminary investigations revealed a 30-centimeter hole in the ceiling of the toilet, and batteries, lead wires and other "suspicious objects," NHK reported. Footage on national television showed a bomb squad at the site.
The incident occurs amid heightened tensions globally following the terrorist attacks on Paris, the taking and killing of hostages in Mali, and a prolonged lockdown of Brussels. Yasukuni is often a focus for controversy as senior Japanese politicians visit it in the face of criticism from other governments. Prime Minister Shinzo Abe sent a ritual offering to the shrine in lieu of a visit in October this year.
Today is Labor Thanksgiving Day, a public holiday across Japan.
Before it's here, it's on the Bloomberg Terminal.
LEARN MORE