Sabotage in Crimea Risks Military Move by Putin
The Russian-annexed peninsula is cast into darkness. If the pain gets worse, will the Kremlin carve out a land bridge, defying the West?
By and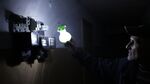 The conflict between Russia and Ukraine has taken an ominous new turn. So far it's Crimea that's paying the price, but Kiev could be next.