Nissan's Maxima Is the Best Boring Sedan
Can a kind of sporty, sort of luxurious car bring sexy back to the suburbs?
by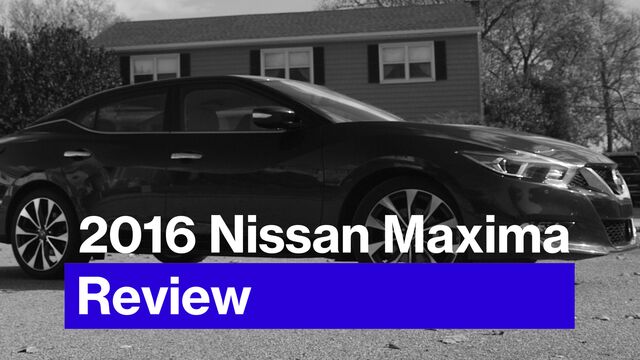 The all-new Nissan Maxima is delightfully quick, surprisingly comfortable, and thoroughly confusing. In an industry where product strategy has become laser-focused, the Maxima is a car of contrasts that doesn't fit in any particular niche.
Nissan bills the Maxima as a sports car and endowed it with a muscular, 300-horsepower engine 1 The same engine can be found in the high-end versions of Nissan's Altima, but it's tuned for 30 extra ponies here. . It looks angry with "boomerang" headlights and rippling side panels 2 "The market could be determined to be narrow, so we really wanted to make a statement." - Tiago Castro, Nissan's senior manager of product planning. . Yet beneath the bulging body work, the Maxima comes with only front-wheel drive (read: no drifting), and its continuously variable transmission—while great for gas mileage—makes the Maxima's paddle-shifters seem fake and lifeless.
Then there's the finish. While the Maxima is not a luxury car—Nissan checks that box with its Infiniti brand—it isn't cheap. The vehicle comes in five gradients of opulence, ranging from $32,400 to almost $40,000.

Inside, there's a lot to like. The company said it modeled the cockpit after a Blue Angels fighter jet. I was lucky enough to fly in one of the Angels' F/A-18s, and I have to say, Nissan missed the mark. The Maxima has way too much stitched leather, and the navigation system is a little easier to figure out. The intelligent emergency braking system helpfully scans the road two cars ahead, looking for sudden stops. The seats are Goldilocks perfect, not too hard and not too soft.
On the road, the Maxima is effortless, which is both a good and a bad thing. Jam the accelerator on virtually any airport rental, and the feeling approximates the thrill one gets when switching a handheld fan to "high." The Maxima, in comparison, has an eager pedal in "sport" mode and gamely accelerates into the flow of a hectic interstate or darts through a gap in city traffic. Car & Driver says it sprints to 60 miles per hour in less than six seconds.
Still, there's a dearth of drama, which sports car purists will miss. The steering is anodyne. The cabin is eerily quiet because of active-noise canceling 3 With speakers using the same technology you would find in high-end headphones. . The only way to get a little scared is to pretend it's a Porsche, fling it into a corner, and feel the front wheels flail away at the road like a terrified kitten on a hardwood floor.
After four days, I wasn't any closer to figuring out whom the car was designed for, nor had I figured out who wouldn't like it. The trunk is huge, and the back seat is spacious. A decent-size person wouldn't mind riding back there for a few hours.

Nissan says the target was the "near-luxury buyer," someone who can afford something splashy, but not too splashy. Indeed, the bestselling of the five trim levels is the most opulent, according to Tiago Castro, Nissan's senior manager of product planning. "It's a very tough segment, so we wanted to overdeliver on the interior," Castro said.
Still, for $40,000, one can slide into a fairly plush sedan badged by Acura, Buick, or Lincoln. The Maxima-curious will find similar options in the Infiniti line without even going to a separate dealership.
Sales figures suggest plenty of people are doing just that. In the past 15 years, Maxima sales have slid 62 percent. Meanwhile, Nissan's SUV line started paying huge dividends for the company.

Nonetheless, there's a steadiness to Maxima orders, perhaps explained by another target demographic: people who already own Maximas. Of the first few hundred people who ordered the latest model, roughly one-third owned a prior iteration, according to Nissan 4 Ask anyone over the age of 30 about the Maxima and odds are good you'll hear a story. The name, now 35 years old, is one of the oldest, uninterrupted models in the auto industry. . Like any mature and fading brand, the Maxima doesn't need to expand beyond its current customer base to succeed.
Would the Maxima be better with rear-wheel or all-wheel drive? Of course. Would it get more traction if the whole range were shifted $3,500 cheaper or if it were relentlessly marketed to a specific subset of the population? Absolutely. But it's nice to know that there's still a car that wasn't designed with millennial moms, urban empty-nesters, or 40-something paddle-board yogis in mind. It's not for anyone in particular; it's for a lot of people.
Before it's here, it's on the Bloomberg Terminal.
LEARN MORE