Is Halo 5 Really a Blockbuster? It's Hard to Tell
Trying to get a straight answer about how a video game launch went can be an exercise in futility.
By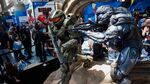 When Microsoft launched Halo 5 in late October, the company claimed that it was the biggest launch yet in the company's biggest video game franchise. A press release trumpeting the game's success included such impressive-sounding achievements as $400 million in global sales and a Guinness World record for "most watched video game launch broadcast." On Monday, the video game retail chain GameStop had a different take. It said the Halo 5 launch had been a disappointment, naming it along with Star Wars: Battlefront and Assassin's Creed Syndicate as the splashy games that had fallen short of expectations so far this fall.