Hollande Says Assad Is 'Not the Future' for Syria
Helene Fouquet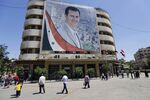 French President Francois Hollande said Monday that his country will continue air strikes against the Islamic State and that President Bashar al-Assad is "not the future" for Syria.
The air strikes "will intensify and will seek to inflict maximum damage" on the Islamic State, Hollande said, speaking in Paris with U.K. Prime Minister David Cameron.
The U.K. and France have agreed to increase joint intelligence work, Cameron said, adding that the U.K. will offer France support for strikes in Syria.
"We need a stronger external European border to make our secrity more effective," Cameron said, adding that he will set out a full strategy for dealing with the Islamic State in parliament this week.
Before it's here, it's on the Bloomberg Terminal.
LEARN MORE