French Youth Line Up to Join the Military After Paris Attacks
by
Applications to join the army have tripled since last week

Armed forces represent one of the few big national recruiters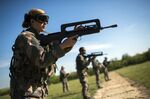 France says it's at war and its young people are heeding the call of duty. 
The number of daily applications received by France's armed forces has tripled since the Nov. 13 terrorist attacks in the Paris area, which claimed 130 lives and injured more than 300 people. People signing up to join the military went up to about 1,500 from an average of 500, a spokeswoman for the French army said by phone. France's army has said it needs to fill 15,000 positions in 2015 and 16,000 in 2016.
"What happened last Friday really convinced me that was what I wanted to do; I felt so powerless watching TV," said Hamilton Mithun, 19, who was at the Fort Vincennes military recruitment in eastern Paris on Friday. "I wanted to be helpful. That's why I am here." Mithun, born in the Paris suburb of Bobigny, lives in the town of Blanc-Mesnil, which is just a few kilometers from Saint-Denis, where the attacks began and where raids last week ended with the death of the suspected ringleader. Mithun wants to join the firefighting department, which in France is part of the military.
French President Francois Hollande called the attacks in Paris "an act of war" by the Islamic State and has focused on taking on the militant group both at home and overseas, with air strikes in Syria and Iraq. The country's youth is doing its part by flooding army recruitment and information centers with calls and emails asking how they can help.

Big Recruiter
Still, few would-be soldiers will end up being selected. Fewer than 10 percent of the total number of applications, estimated so far at 150,000 this year, will be successful. In a country that faces an unemployment rate of more than 10 percent, the armed forces represent one of the country's biggest recruiters and one of the few promising paths for young, less educated men and women.
The context has also driven more people to apply. The French armed forces and national police have drawn more interest since the terror attacks in January at satirical magazine Charlie Hebdo and a kosher grocery store, which killed 17 people. 
Security forces were applauded during the Jan. 11 demonstrations, which gathered about 4 million people nationwide. Some people even hugged French riot squads -- a scene rarely seen in a country that has often been critical of its security forces since World War II, when some collaborated with the German occupiers.
Security Spending
The current momentum may last a little longer than in January, as the French government has vowed to spend more on security. Hollande said he will allow France's budget-deficit reduction commitments slide in the wake of the latest attacks.
That will allow him to freeze cuts in military personnel through 2019 and spend more on intelligence services. The French army's 2015 budget is 31.4 billion euros ($33.5 billion), the country's third-largest expenditure after education and debt repayments.
It's also second-biggest national military budget in Europe after the U.K., even though it's only 5 percent of the U.S. defense budget. French defense spending has fallen by about 20 percent over the last 25 years in real terms, according to the government.
Watch Next: How Prepared Is France's Security Infrastructure?
Before it's here, it's on the Bloomberg Terminal.
LEARN MORE