Fixing Europe's Security Crisis Will Need More Than Just Money
by and
Belgium failed to fill about 100 intelligence posts this year

Paris attackers bragged of slipping past EU security services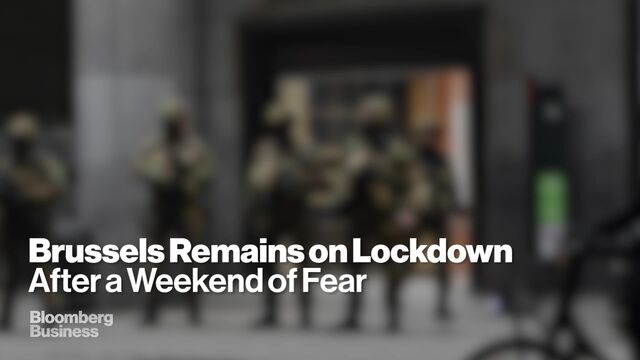 Belgium's rush to throw money at its problem with jihadists may not be enough to plug the holes in Europe's defenses.
After years of neglect saw parts of Brussels become a hub for radical Islamists, including some of those responsible for the attacks in Paris, Prime Minister Charles Michel pledged to hand intelligence services an extra 400 million euros ($427 million) in 2016.
But that won't solve the country's shortage of expertise, according to Rik Coolsaet, a professor of International Relations at Belgium's Ghent University. He said about 100 positions still need to be filled after recruitment ground to a halt in the past few years.
"Until three years ago the secret services really had no political friends and were not considered to be very fashionable," Coolsaet said in an interview. "It takes some time before new agents are recruited and trained."
The failure of Belgian authorities to keep tabs on the men who plotted this month's massacre has thrown into relief the gaps in the European Union's security apparatus and left the nation's capital on lockdown amid fears of an imminent attack. While the privileges of the Schengen zone allowed terrorists to travel freely between Brussels and Paris, administrative barriers between law-enforcement systems prevented the intelligence from following them.
Borderless Jihad
Suspected Paris ringleader Abdelhamid Abaaoud bragged online earlier this year about being able to evade security services while one of his alleged accomplices, Salah Abdeslam, was stopped three times by French police on the road back to Brussels after the attacks, according to his driver's lawyer.
The terror threat in Brussels will stay at the highest level at least through Monday afternoon, meaning schools, universities and the entire metro network will remain closed amid fears that terrorists are plotting a major offensive.

After the mistakes in the lead up to the Paris shootings trained the spotlight on Belgium, Michel unveiled new measures that will bring the powers of Belgian security officials more into line with those in France. These include banning hate preachers, removing legal constraints on police searches at night, extending detention periods for terror suspects and making it easier to get phone taps.
A parliamentary committee with oversight of Belgium's intelligence services has opened an investigation into its failings.
"It's not the time now for a blame game," Belgian Justice Minister Koen Geens told reporters in Brussels on Friday. "We'll have more than enough time for that later."
Spies That Talk
While the Belgians are pleading for patience, they also need help.
As a medium-sized country of 11 million, Belgium relies on data from other intelligence agencies. But with little information to share, the Surete D'Etat gets little in return, according to Coolsaet. He sees a European solution to that: pooling.
Yet persuading intelligence officials to share has been a challenge, according to EU counter-terrorism coordinator Gilles de Kerchove. European Union Home Affairs Commissioner Dimitris Avramopoulos urged governments on Friday to consider the creation of a European intelligence agency to break down the culture of secrecy dividing national services.
In a sign of renewed cooperation, France and Belgium will set up a joint investigation into how the Paris attacks transpired, French Justice Minister Christiane Taubira said Friday.
Europe's Ghettos
Long-term, though, analysts say there needs to be a focus on addressing some of the integration issues that have contributed to Belgium becoming the highest per capita European contributor of foreign fighters to Syria and Iraq.
Just three metro stops from the main train station linking Brussels to London and Paris, Molenbeek is a densely populated area with a large Moroccan population and high unemployment. It has long been used as a recruiting ground for extremist groups, including the now banned Sharia4Belgium, and locals and youth group workers say authorities have been too slow to deal with the problems in the area.

"In the past it was a bit of a frustration for me," Johan Leman, president of a Molenbeek community center, said, recounting an encounter with security officials. "I said 'listen to me, do something about it,' and they said, 'we know who they are."'
While the focus is on Molenbeek now, there are other areas across the city that are vulnerable, according to Olivier Vanderhaeghen, a Molenbeek youth worker.
Police raids in Brussels last week extended to Jette, Laeken and even the upscale district of Uccle. German police arrested seven suspects near the Belgian border.
As officials try to re-engineer the continent's security in the knowledge that many Islamic State fighters have already returned from the battlefields of Syria, police chiefs warn of more attacks to come.
"You don't do this overnight," de Kerchove said in Brussels Friday. "It took 30 years for Edgar Hoover to get the FBI up and running."
Before it's here, it's on the Bloomberg Terminal.
LEARN MORE