Chilean Peso Falls to 12-Year Low Amid Copper Price Slump
by
Plunge is spurring speculation of central bank intervention

Currency weakness helps drive Chile's above-target inflation
Chile's peso slumped today after the price of copper, the country's main export, reached its lowest in more than six years, spurring talk of whether the central bank may intervene in the market.
The peso slid 0.6 percent to 715.11 per dollar at the close of trading in Santiago on Monday, its weakest closing level since June 2003. Copper fell 1.7 percent to $2.024 a pound on the Nymex in New York amid signs of weak demand in China. Speculation of an impending increase in interest rates in the U.S. is also affecting emerging-market currencies.
"We continue to see copper hitting the peso really hard," Ronald Volpi, head of currency trading at brokerage EuroAmerica, said from Santiago. "At this rate it could easily weaken past 720 per dollar, and we have to see what the central bank says then. It's certainly not comfortable with the effect on inflation."
The peso weakened 17 percent in the past 12 months as the price of copper, which makes up almost half of Chile's exports, slumped 33 percent. That helped push consumer prices above the central bank's target range of 2 to 4 percent in 10 of the last 12 months. The central bank reserves the right to act in the foreign-exchange market if it's concerned about the effect the currency is having on local inflation, central bank President Rodrigo Vergara said, according to a report Thursday from local newspaper Pulso.
Inflation, especially inflation excluding food and energy, was faster than expected last month, the central bank said in its Nov. 12 policy statement. The bank said in its latest quarterly inflation report that monetary policy would take into account the impact of a weakening currency on prices. Two-year break-even inflation, a measure of swaps traders expectations of future price rises, rose seven basis points Monday to 3.22 percent, the highest since Oct. 7.
Chile's real exchange rate, an inflation-adjusted measure of the currency's strength against the country's trading partners, was 98.65 last month, indicating that the currency is weaker than the average of the past 10 years, which is 93.4. The currency had strengthened in real terms from 100.56 in August.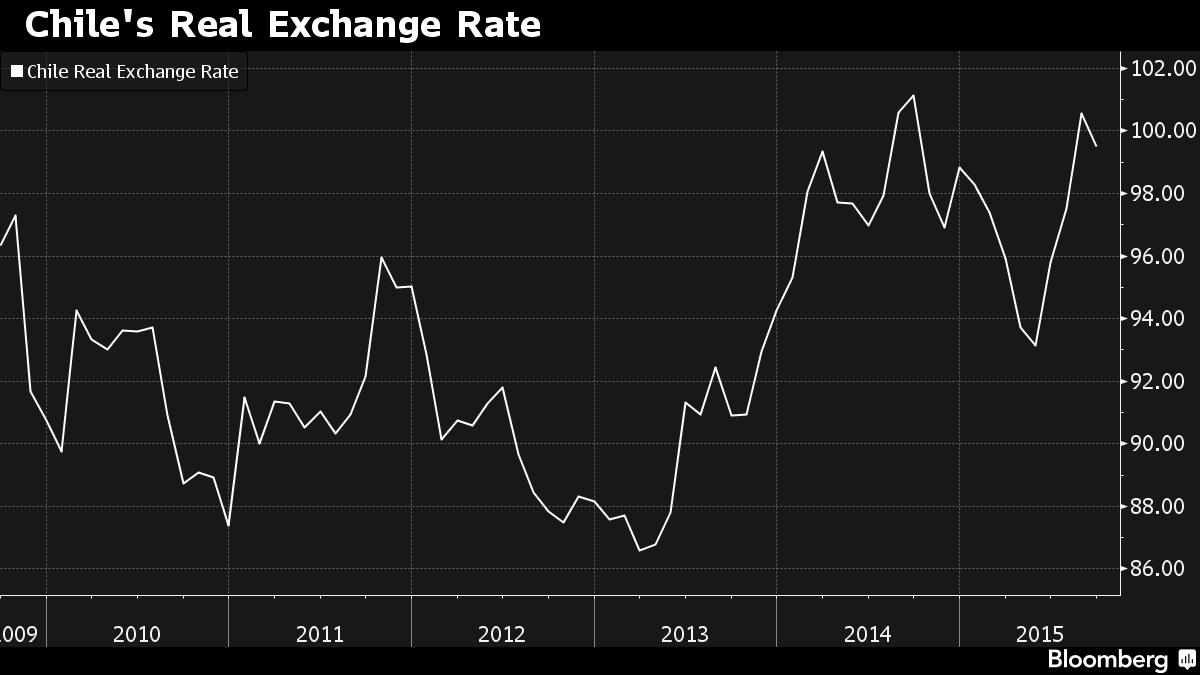 The last time the central bank intervened to strengthen the peso was in 2003, after a debt default in Argentina and the election of Luiz Inacio Lula da Silva in Brazil sent tremors through investors in the region.
Before it's here, it's on the Bloomberg Terminal.
LEARN MORE