Photographer: JB Reed/Bloomberg
Charting the Markets: Global Stocks End Five-Day Winning Streak
Commodities slump to 1999 low, the euro falls to April low and mining companies lead Stoxx 600 lower.
by
Global stocks fell for the first time in six days as the sell-off in commodities continued. Last week the MSCI All Country World Index posted its biggest weekly gain in six weeks. The S&P 500 Index had its best week of 2015. The countdown to the Dec.15-16 Federal Reserve meeting continues. Over the weekend San Francisco Fed President John Williams said there is a "strong case" for a U.S. rate increase in December, assuming economic data continue to be encouraging. The odds of a move have risen to 70 percent from 36 percent a month ago, according to Bloomberg data.

There's no getting away from the strong dollar and slowing demand in China. The Bloomberg Commodity Index, which tracks 22 basic materials, has fallen to its lowest in 16 years. The greenback is rising against all of its major peers as the prospect of a December U.S. rake hike boosts its allure, making commodities more expensive for buyers in other currencies. Copper has dropped below $4,500 for the first time since May 2009. Nickel has sunk to a new 2003 low. A London Metal Exchange Index of six industrial metals has fallen for six weeks. Gold has dropped for five straight weeks, crude oil is on a three-week losing run. The Bloomberg Commodity Index is set for its worst year since the financial crisis, plunging 23 percent.

The words of European Central Bank President Mario Draghi continue to weigh on the euro. On Friday he said the ECB will do what it must to raise inflation "as quickly as possible." Since he signaled in Malta on Oct.22 that policymakers were ready to add to stimulus at their next meeting in December, the euro has dropped 6 percent. Speculators have increased bets that benefit from a decline in the euro to the most since June. Analysts surveyed by Bloomberg see the euro at $1.08 at the end of the year from $1.06 today. Barclays is the most bearish with a $1.03 forecast.

Basic resource stocks are taking their lead from the slide in commodities. All 17 members of the Stoxx 600 Basic Resources Index are falling today, with Glencore and ArcelorMittal dropping as much as 5 percent. The gauge is this year's worst performing industry group on the Stoxx Europe 600 Index, falling 26 percent. Along with utilities it's the only one to have fallen out of nineteen. Glencore's 2015 decline is 70 percent. Anglo American's is 65 percent. ArcelorMittal has sunk 50 percent.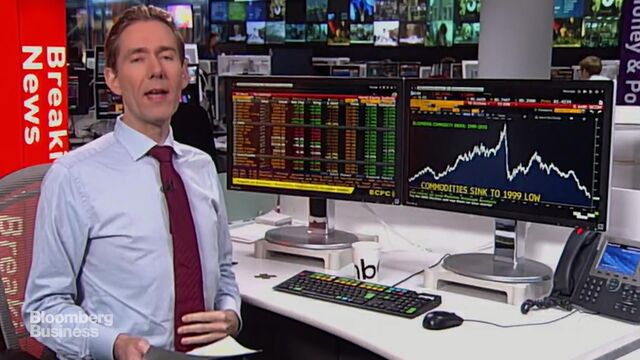 Mark Barton is a presenter on Bloomberg TV. Follow him on Twitter @markbartontv
Before it's here, it's on the Bloomberg Terminal.
LEARN MORE