Cameron Pledges $18 Billion Army Upgrade Amid Security Focus
by and
Prime minister to address Parliament this week on Syria

Government commits to $270 billion equipment spending to 2025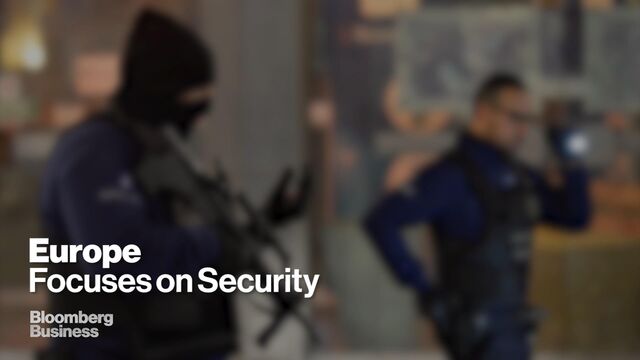 Prime Minister David Cameron will announce plans Monday to boost Britain's military equipment budget by 12 billion pounds ($18 billion), the latest in a range of government commitments to fight terrorism and other security threats as Europe remains on a state of high alert.
The Strategic Defense and Security Review will outline plans to increase Britain's military capability through the purchase of new maritime patrol aircraft and fighter jets, and to fund a series of rapid response teams, according to a statement released by Cameron's office. The prime minister will present the full 178 billion-pound spending plan for Britain's military over the next decade to lawmakers at about 3:30 p.m. in London.
The U.K. is bracing itself for a long fight against terrorism following the downing of a Russian passenger jet and deadly attacks in Paris, both claimed by Islamic State. The review of defense capabilities will be published a day after Chancellor of the Exchequer George Osborne announced a 30 percent increase to the counter-terrorism budget, and days before Cameron outlines his strategy for extending British bombing raids against Islamic State, also known as ISIL, to Syria from Iraq. National security and military officials have warned the prime minister that cutting defense budgets further could severely hamper Britain's ability to defend itself.
No Borders
"At its heart is an understanding that we cannot choose between conventional defenses against state-based threats and the need to counter threats that do not recognize national borders," Cameron will say of the review in his speech to Parliament, according to prepared remarks. "Today we face both and we must respond to both."
Cameron, visiting French President Francois Hollande in Paris on Monday morning, said he also plans to go to Parliament this week to set out a "comprehensive strategy" for dealing with Islamic State. This may include asking lawmakers to approve extending strikes against the group from Iraq to inside Syria. That depends on whether the prime minister thinks he can win over doubters both in the opposition Labour Party and among his own Conservatives.
"It is clear that the world is coming together to tackle this evil terrorist threat," Cameron said. "I firmly support the action of President Hollande has taken to strike ISIL in Syria and it's my firm conviction that Britain should do so too. Of course that will be a decision for the Parliament to make."
Monday's review has been tensely anticipated by Britain's defense industry. While the government has committed to meeting the North Atlantic Treaty Organization's requirement that 2 percent of gross domestic product be devoted to defense, it has also pledged to balance its books by 2019-2020, leading defense spending to be slashed in recent budgets. Monday's announcement includes a 10-year life extension for the Royal Air Force's Eurofighter Typhoon warplanes.
Industry Boost
The Typhoon's expanded role is a boost to BAE Systems Plc, the U.K. partner of the pan-European consortium, which said Nov. 12 it would slow output of the plane amid a dearth of orders, even after Italy announced a 28-jet deal with Kuwait. The upgrades, which will add two new squadrons and fit the jets with improved ground-attack and radar capabilities, will extend the jets' lifespan to 2040, Cameron will say.
Companies including Boeing Co., Lockheed Martin Corp. and General Dynamics Corp. are also set to benefit, with respective confirmations of orders for nine Boeing P8 torpedo-fitted maritime patrol aircraft, a tripling of the pace of deliveries of the Lightning F-35 jet up to 2023, and the inclusion of almost 600 Scout armored vehicles in two new rapid-deployment "Strike Brigades" scheduled for operation by 2025.
"Over the last five years we have taken the difficult decisions needed to bring down our deficit and restore our economy to strength," Cameron will say. "In 2010, the total black hole in the defense budget alone was bigger than the entire defense budget in that year. Now it is back in balance."
'Settled' Reductions
Osborne said Sunday he had agreed on budget reductions across all government departments ahead of Wednesday's Spending Review. The increase in funding for counter-terrorism will allow security and intelligence agencies to boost their operational capabilities, allowing them to fuse intelligence with the armed forces, and pay for a new operations center for MI5, the domestic security service, as well as upgrades in technology, according to a Treasury official. 
Cameron will also back Osborne's push for continued austerity. Britain recorded the largest budget deficit for any October since 2009, data last week showed. Net borrowing excluding public-sector banks was 8.2 billion pounds compared with 7.1 billion pounds a year earlier. Osborne suggested the government may miss its goal of running a 10 billion-pound surplus by 2020, telling the BBC that the "precise level of the surplus will be set out in the forecasts on Wednesday."
Watch Next: The World Is Coming Together Against IS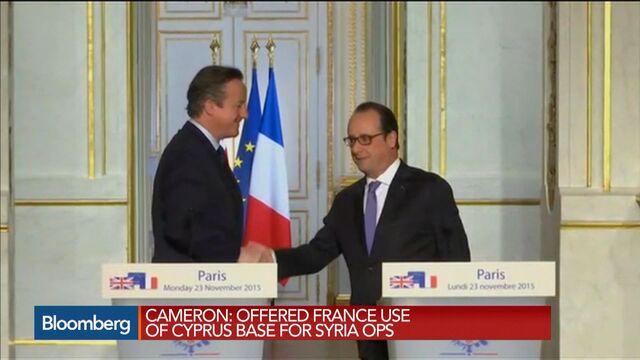 The increased investment in security "is vital at a time when the threats to our country are growing," Cameron will say. "From the rise of ISIL and greater instability in the Middle East, to the crisis in Ukraine, the threat of cyber attacks and the risk of pandemics, the world is more dangerous and uncertain today than five years ago."
(Adds Cameron comments on Syria in fifth paragraph. A previous version of this story was corrected to show the government is ordering nine Boeing P8 maritime patrol aircraft, not vessels.)
Before it's here, it's on the Bloomberg Terminal.
LEARN MORE