Brussels Stays on Lockdown Amid Hunt for Terror Suspects
by and
Schools, metro, stores closed; Salah Abdeslam still at large

Prime Minister Michel warns of Paris-style multiple attacks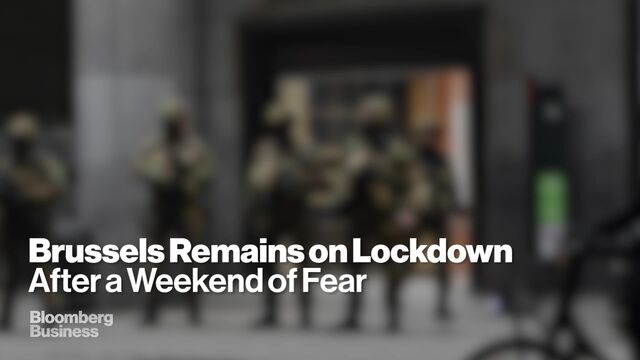 Police across Belgium continued their hunt for an Islamic State terror cell they fear is plotting an "imminent" attack on Brussels as authorities maintained the capital city on maximum alert, keeping schools, shops and the metro network closed on Monday.
After an unprecedented weekend of fear that saw the subway network shut and stores, cafes and night clubs shuttered, special forces spent Sunday evening carrying out a series of counter-terrorism raids, detaining 16 people. Belgium-born Salah Abdeslam -- one of two brothers believed to have been involved in attacks that killed 130 in Paris on Nov. 13 -- wasn't found. Belgium's government warned of a continuing, serious threat to the public.
"What we expect is an attack similar to the one that unfolded in Paris with multiple people who launch offensives in many places at the same time," Belgian Prime Minister Charles Michel told reporters in Brussels late Sunday. The threat is "very serious and imminent," he said.
Little more than a week since the Paris attacks, attention shifted some 200 miles north to the Belgian capital of around 1.2 million people as European governments prepare to carry out airstrikes against Islamic State at its base in Syria. France, where the government extended a state of emergency for three months, put naval forces in position to bomb Syria on Monday, while the U.K. said it would seek to firm up political support for its own military efforts.
Heightened State
The decision to keep Brussels on a heightened state of alert will extend the disruption to the North Atlantic Treaty Organization and the European Union on Monday, both of which have their headquarters in the city. NATO told non-essential staff to stay at home, while the EU will open with reinforced security. Finance ministers of the euro area's 19 nations are scheduled to meet in Brussels in the afternoon as planned.
Brussels has been on its guard since it emerged that at least three jihadists behind the Paris assaults lived in the city. Abdeslam, who's now the focus of an international manhunt, comes from the Molenbeek district of the capital.
"We are following the situation hour by hour," Michel said. "Everything is put in place to find a way back to normal life as soon as possible."

Counter-terrorism officers carried out 22 simultaneous raids in Brussels and the Belgian city of Charleroi, federal prosecutor Eric Van der Sypt told reporters early Monday. They detained 16 people, none of whom was Abdeslam.
"We didn't find arms or explosives," said Van der Sypt. "A certain number of elements of the investigation required intervention tonight."
The Brussels metro remained closed all weekend after authorities late Friday raised the terror alert for the Brussels region to 4, or "very serious," and canceled sporting events and cultural activities around the city. On Saturday night, the city was virtually empty as authorities advised bars and cafes to close after 6 p.m. Armed police and soldiers in armored vehicles patrolled the streets as movie theaters, libraries and galleries closed.
The manhunt "involves several suspects; that's why we've put in place such a concentration of resources," Belgian Interior Minister Jan Jambon told broadcaster VRT.
'Ensuring Security'
"Closing the metro isn't so much about a threat but with the difficulty of ensuring security," Jambon told Een television. "Each metro station has about eight exits. That is much more difficult than a train that passes through several stations."
The terror warning came hours after the United Nations on Friday unanimously endorsed a resolution calling for countries to take "all necessary measures" to combat Islamic State in Syria and Iraq, warning that the group intends further attacks like those in the French capital. French President Francois Hollande and U.K. Prime Minister David Cameron applauded the decision.
Hollande will meet with Cameron on Monday in Paris, before the French leader sees U.S. President Barack Obama Tuesday in Washington and German Chancellor Angela Merkel in Paris on Wednesday. He meets Russian President Vladimir Putin in Moscow on Thursday.
British Chancellor of the Exchequer George Osborne told BBC Television on Sunday that "this week we're going to step up our diplomatic efforts, our humanitarian efforts, and seek to step up our military efforts" to defeat IS in Syria. French Defense Minister Jean-Yves Le Drian told Europe 1 radio that planes from the aircraft carrier Charles de Gaulle would be ready to start carrying out strikes in Syria starting Monday.
Before it's here, it's on the Bloomberg Terminal.
LEARN MORE