Argentine President-Elect Plans Overhaul of Economy Ministry
by
Mauricio Macri plans to create six-member economic cabinet

Macri aims to diversify power wielded by economy minister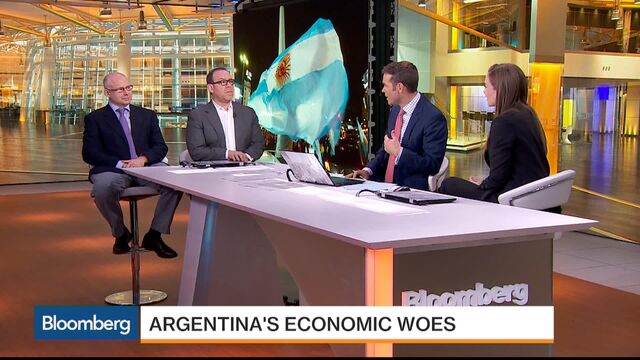 Argentine president-elect Mauricio Macri said he plans to overhaul the way the government manages the economy, creating a six-member economic cabinet as he looks to undo years of currency controls and trade protectionism.
As Argentina steps back from the perpetual interventions in the economy of the Cristina Fernandez de Kirchner administration, the new government will clip the wings of the economy minister, Macri said at a press conference Monday. He was speaking the day after winning 51.4 percent of the vote in the runoff presidential election.
Macri plans to create new ministries for finance and energy that will work in tandem with already-existing labor, production, transport and agriculture ministries, he said. The plan is to reduce the kind of power wielded by current Economy Minister Axel Kicillof or Domingo Cavallo during the 1990s, he said last week. Kicillof and Fernandez have named nine of the ten directors on the central bank's board in the past year, including bank president Alejandro Vanoli.
"There won't be an Economy Ministry but rather a Finance Ministry and six members of an economic cabinet so that they can study and look at the state of the national accounts," Macri said.
The 56-year-old mayor of Buenos Aires has pledged to eliminate currency controls from day one after he assumes power on Dec. 10, as well as reduce export tariffs on Argentina's grains to unleash an estimated $8 billion of hoarded wheat, corn and soybeans.
The gap between Argentina's exchange rates widened on Monday after the peso weakened 0.1 percent to 9.67 pesos per dollar in the official market and 0.4 percent on the black market to 15.13 pesos per dollar.
"It seems like an interesting measure to avoid doing things in such an individualistic way," said Mario Rappoport, managing partner at Torino Capital LLC in New York. "It means things will be a bit more open. You're going to have more opinions with more understanding of what people need."
Before it's here, it's on the Bloomberg Terminal.
LEARN MORE