Adele's 2.3 Million Copies Sold Put '25' on Pace for Record
by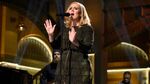 Adele's new album "25" sold at least 2.3 million copies in three days of U.S. release, a record-setting pace that positions the album to smash even the highest sales projections, according to Nielsen Music.
"I guarantee it breaks it today," said David Bakula, senior vice president of analytics and client development at Nielsen Music. "If the Internet goes completely down and Wal-Mart and Target go out of business, maybe it doesn't get there."
Bakula, speaking in an interview, now forecasts 2.9 million units sold for "25" in its first week. That would break the current single-week sales record of 2.42 million copies set by NSync's "No Strings Attached" in March 2000.
The numbers suggest the singer and her record company, Sony Music, will profit from a decision not to release the album on streaming services like Apple Music and Spotify. Keeping "25" off of those services, which pay less than outright sales, risked alienating younger fans who don't tend to buy CDs. Instead fans are pushing sales of the album to a record, and above estimates which ranged as high as 2.5 million units the first week.
Before it's here, it's on the Bloomberg Terminal.
LEARN MORE