Wells Fargo Reconsiders Russia as Putin Steps Up Terror Response
by
Detente with U.S. could be `turning point,' strategist says

RTS Index posts biggest weekly gain among 93 stock benchmarks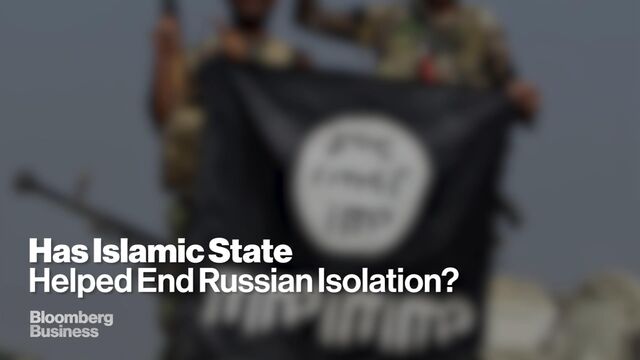 President Vladimir Putin's move toward a more robust alliance against terrorism with the U.S. and Europe has Wells Fargo & Co.'s Brian Jacobsen considering a strategic shift of his own -- into Russian stocks.
Jacobsen, the chief portfolio strategist who helps manage $242 billion at Wells Fargo Advantage Funds, has stayed clear of Russia since 2014 amid a standoff with its former Cold War foes over the Ukraine conflict. Now he's thinking about adopting a "mild overweight" standpoint as their foreign policies align in the fight against Islamic State.
"This could be a turning point in the relationship between Russia and the West," Jacobsen said by phone last week. "We need some time to see how things unravel, but the timing might be right. The conflict in Ukraine abated, a decline in oil stabilized, we might see sanctions being lifted. So if you combine all these factors, we could see a good valuation opportunity."
Jacobsen recommended avoiding Russia in 2014 as international sanctions and slumping crude prices pushed the world's largest energy exporter toward a recession. He turned underweight in March and shifted to neutral in June as oil stabilized and the Ukraine fighting faded. After the Nov. 13 Paris terror attacks, French president Francois Hollande called for Russia and U.S. to set aside their differences and work together against Islamic State. Putin has already unleashed a barrage of air strikes in revenge for the downing of a Russian airliner last month, for which the group has claimed responsibility.
Markets Rally
Signs of a rapprochement stoked a rally in Russian assets last week on speculation friendlier relations could lead the U.S. and the European Union to lift the sanctions they have imposed to punish Putin for supporting a rebellion in eastern Ukraine. The dollar-denominated RTS Index gained 0.5 percent on Monday after surging 9 percent last week in the best performance in the world. The Micex Index, which trades at the cheapest multiple in emerging markets, jumped to a nine-month high. The cost to insure five-year Russian bonds against default fell 39 basis points to 252.6 basis points, near the lowest in a year.

Russia is in the midst of its first recession since 2009 as financing restrictions, exports bans and other measures imposed by the U.S. and its allies exacerbate the impact of oil selling for less than half its five-year average price. Standard & Poor's said last week that an easing of Russia's isolation would warrant a reconsideration of its junk rating for the country if penalties that have contributed to Russia's economic slump are lifted.
Crude, Ruble
While investors from Wells Fargo to NN Investment Partners reconsider the potential for Russian assets in light of the latest geopolitical developments, Alfa Capital's Andrey Shenk is taking a more cautious stance.
"We have to be careful and not give too much value to the terrorism-related talks as there are yet no distinct actions," Shenk, an analyst at Alfa Capital in Moscow, said by phone last week. "The market has seen such headline-driven rallies before," he said. "We need to see some distinct signs that the West is moving toward lifting sanctions."
While the Islamic State controls large parts of Syria and Iraq and is attributed as the force behind the Paris attacks and possibly the downing of a Russian airliner in Egypt, U.S. president Barack Obama said Putin needs to make a "fundamental shift" in his support for Syrian President Bashar al-Assad before joint action can be considered. France has indicated a willingness to work with Russia if it can agree to a political process that ends with Assad leaving, according to French officials. Hollande meets Putin in Moscow on Thursday.
'Positive Signal'
Oil, the nation's largest export, gained 0.2 percent on Monday after rising 2.4 percent to $44.66 a barrel in London in the five days through Friday. The ruble strengthened 3.1 percent against the dollar in the biggest weekly gain since September.
Putin and Obama met at last week's Group of 20 summit in Turkey for the first time since September, when Russia sent warplanes to support Bashar al-Assad in that country's civil war. A Russian official said on condition of anonymity that some coordination with the U.S. has started at an operational level.
"The geopolitical risk premium on Russia is declining," Kirill Yankovskiy, director of equity sales at Otkritie Capital Ltd. in London, said by phone last week. "This sends a positive signal to the investor community."
Before it's here, it's on the Bloomberg Terminal.
LEARN MORE