U.K.'s Osborne Pledges Focus on Terror in $23 Billion Fight
by
Treasury to increase counter-terrorism budget by 30%

He declines to rule out cuts to frontline police numbers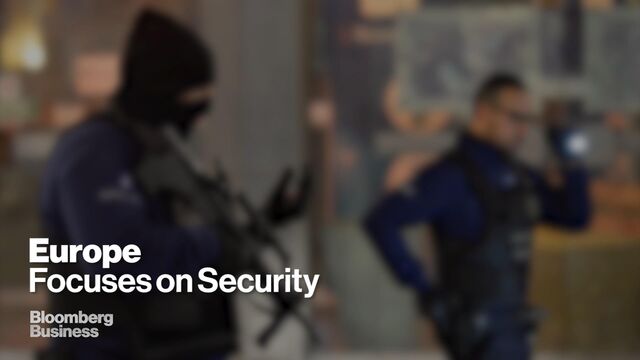 Chancellor of the Exchequer George Osborne will make the fight against Islamic State a focus of his Spending Review on Wednesday amid plans to boost the U.K.'s counter-terrorism budget by almost a third.
In a tweet Sunday, Osborne said the government will invest 15 billion pounds ($23 billion) over the next five years fighting the threat at home and abroad. Last week, he pledged to double the funding for the U.K.'s cyber defenses, saying security would be a focus for his fiscal report after the downing of a Russian passenger jet and deadly attacks in Paris were both claimed by Islamic State. He declined to say whether he would refrain from cutting police budgets.

"We are going to make the argument that protecting the British people is our first duty as a government, that economic security is a vital part of national security," Osborne told the BBC's "Andrew Marr" program on Sunday. "And precisely because we are making difficult decisions in other parts of our budget, we can give our military more kit, we can increase our counter-terrorism budget by 30 percent."
Osborne said he has "amicably" agreed to reductions across all government departments as he seeks to balance the demands -- and costs -- of increased security with the need for continued austerity, after October deficit figures showed public finances deteriorated. Prime Minister David Cameron is also likely to make strengthening defenses a focus of the government's Strategic Defence and Security Review published on Monday.
Police Cuts
Asked whether the cuts agreed with the Home Office would include a reduction in frontline police numbers, Osborne said that while some money would go to police to deal with gun attacks, "every public service has to make sure it is spending its money well."
"We will make sure Britain is properly defended from the terrorist threat," he added.
Opposition Labour Party Treasury spokesman John McDonnell warned Osborne's planned reduction to policing "undermines our security."
"I am saying to him directly, end the cuts to policing because all the police chiefs are saying you are putting our communities at risk" McDonnell told the Marr program. "I will support him if he says, straightforwardly, policing cuts will not take place."
Counter-Terror Funding
Counter-terrorism funding will increase from its current 11.7 billion pounds. This will allow security and intelligence agencies to boost their operational capabilities, allowing them to fuse intelligence with the armed forces, and fund a new operations center for MI5 as well as upgrades in technology, according to a Treasury official. 
The government will also increase its capability to respond to attacks involving multiple gunmen and explosives. Border information systems will be upgraded. It will also boost spending on counter-terror policing in real terms, and set up a new National Digital Exploitation Service to enable the processing of seized phones, computers and devices for evidence and intelligence leads.
Spending on aviation security, both in U.K. and international airports, will double, as announced by Cameron last week. Special forces will be awarded an additional 2 billion pounds to bolster their capacity to hunt down terrorists.
Osborne is also expected to soften cuts to working tax credits after the plan was voted down in the House of Lords last month, and while he said he'd listen to arguments put forward to alleviate their impact, he is still likely to focus on the need for continued austerity.
Britain recorded the largest budget deficit for any October since 2009. Net borrowing excluding public-sector banks was 8.2 billion pounds compared with 7.1 billion pounds a year earlier.
Before it's here, it's on the Bloomberg Terminal.
LEARN MORE