Hollande to Press Obama, Putin for Terror Response
by
Obama calls on Putin to make `fundamental shift' on Assad

France puts Europe's largest aircraft carrier in position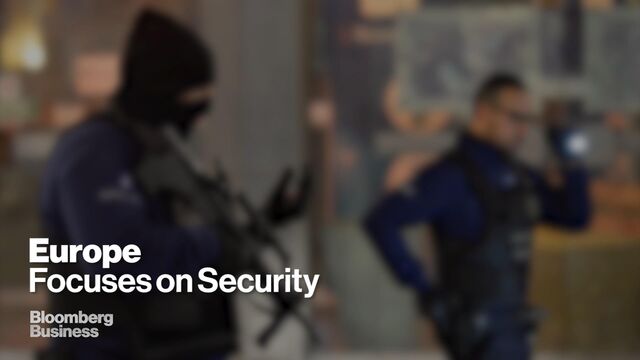 President Francois Hollande faces the challenge of knitting together a coherent coalition with a durable strategy for tackling the Islamic State in meetings this week with the leaders of France's closest allies as well as Russia's Vladimir Putin.
Ten days after terrorists killed 130 people in and around Paris, Hollande hosted British Prime Minister David Cameron for a working breakfast in the French capital Monday. He sees President Barack Obama Tuesday in Washington and German Chancellor Angela Merkel in Paris on Wednesday. He meets Putin in Moscow Thursday.

With the U.S. refusing military cooperation with Russia, Hollande faces no simple task. While the Islamic State controls large parts of Syria and Iraq and is attributed as the force behind the Paris attacks and possibly the downing of a Russian airliner in Egypt's Sinai dessert, Obama said Putin needs to make a "fundamental shift" in his support for Syrian President Bashar al-Assad before joint action can be considered.
"To what extent this will function as a coalition rather than a collection of states is entirely unclear at this stage," Francois Heisbourg, head of the London-based International Institute for Strategic Studies, said in an interview. "Will the Russians accept to have jointly agreed targets? I find that very difficult to believe."
Assad Question
Like the U.S., France also wants Assad removed, though it has indicated a willingness to work with Russia if it can agree to a political process that ends with Assad leaving, according to French officials. France sees more flexibility from Russia on the Assad issue, in part because Moscow has concluded that Assad's army is no longer able to hold areas that Russian fighters have cleared for them, the officials said.
In the Russian view, the U.S. and France have little choice.
"You don't have to be a major expert to realize that there is no alternative to coordination and cooperation," Maria Zakharova, a Russian foreign ministry spokeswoman, said on state TV. "There simply isn't. We lost a lot of time and a lot of people."
Russian Prime Minister Dmitry Medvedev also blamed the U.S. focus on Assad for allowing the Islamic State to flourish. The strengthening of Islamic State "became possible partly due to irresponsible U.S. politics" that focused on fighting Assad instead of joining efforts to root out terrorism, Medvedev said in Kuala Lumpur Sunday, according to Interfax.
Oil Field Strikes
Meanwhile, the French aircraft carrier the Charles de Gaulle will be supporting operations in Syria starting Monday, Defense Minister Jean-Yves Le Drian said Sunday. The ship, Europe's largest carrier, has 36 fighter jets, bringing to 48 France's total contribution to the anti-IS operation.
Cameron offered France the use of Britain's Akrotiri base in Cyprus for operations in Syria. "The U.K. will do all in our power to support our friend and ally France to defeat this evil death cult," he said in Paris.
"We need to strike the resources of the Islamic State, which is to say their oil fields," Le Drian said on Europe 1 radio. Changes to U.S. and French tactics and the multiplication of strikes is now "considerably limiting" the resources of the enemy, he added.
Le Drian ruled out the use of French ground troops in Syria, including special forces, even though the U.S. has sent a small elite unit into the region.
'End of Europe'
The U.S. realizes it will have to offer Hollande something on a united front against Islamic State including Russia but the lack of trust in Putin makes this very difficult, an American official said. At most, the Obama administration could publicly welcome Russian strikes against IS and agree informally with Russia on dividing up areas controlled by the militant group for targeting. 
No intelligence-sharing or coordination of military activity is likely, the official said, speaking on condition of anonymity because the matter is confidential.
Other European Union powers also need to make a show of support to prevent Putin from parading himself as France's ally in the wake of the terrorist attacks, former Italian Prime Minister Enrico Letta said.
"If we let Putin appear as the real ally of France, it will be the end of Europe," Letta said in an interview. "That's the risk, that's what's happening."
Poll Gains
At home, Hollande has already benefited from a surge in support as he acted as war leader in the week after the attacks and as raids in a Paris suburb resulted in the killing of the suspected ringleader of the assaults.
His approval rating jumped to 33 percent, the highest since January, from 25 percent last month, according to BVA Opinion survey conducted on Nov. 18 and 19. The poll is the first to appear publicly since the Nov. 13 attacks.
Even so, Hollande and his allies need to tread carefully with their war rhetoric. Together or separately all the powers must look for solutions that go beyond bombing or risk long-term failure of their efforts, according to Anthony Cordesman of the Center for Strategic Studies in Washington.
"It's all too easy to call for war against the Islamic State," Cordesman said in a report. There is good reason for "careful planning and analysis, for taking time to build on previous efforts" and "not leaping into massive military escalation. More needs to be done where more can actually be effective."
Before it's here, it's on the Bloomberg Terminal.
LEARN MORE