Brussels Becomes a Ghost Town as Terror Keeps People Inside
by and
Brussels capital in lockdown on fears of Paris-style attack

Closures extended into Monday as cafes tell of lost profits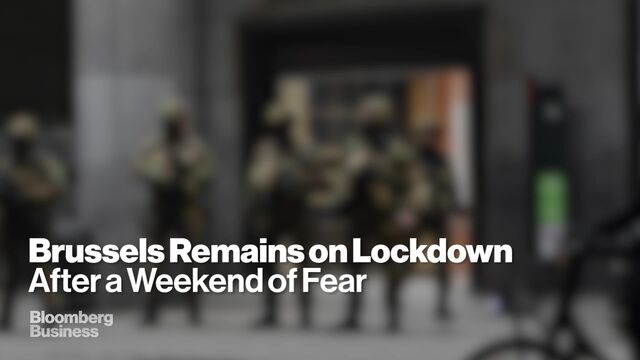 Steven Devisscher's bar in downtown Brussels normally teems with more than 200 customers quaffing specialty Belgian beers on a Saturday night. Not this weekend.
After a government warning of an "imminent" Paris-style terrorist attack, his doors were locked and his lights off.
"People are afraid," said Devisscher, the manager of Monk, situated a short walk from the city's historic Grand Place. He didn't need to turn people away because the city was empty. "The police wanted us to close; we still decided to stay open, but there was nobody about. The streets are dead."

It was a scene repeated across the Belgian capital as restaurants told of cancellations throughout the day. Many didn't open at all. The Grand Place, famed for its chocolate shops and ornate cafes, was practically deserted as Brussels went into lockdown.
People had woken up to the news on Saturday morning the government had raised the Belgian capital's terror alert to its highest level, signaling a very serious and imminent threat. The city shut down its metro system and shopping malls, canceled sporting and cultural events and recommended bars, cafes and night clubs in the busiest areas to shut after 6 p.m.
On Sunday, the closures were extended into Monday, meaning creches, schools and universities won't open, and the entire metro network will remain shut for a third straight day. The threat level will be reassessed Monday afternoon, the government said.
"What we expect is an attack similar to the one that unfolded in Paris with multiple people who launch offensives in many places at the same time," Belgian Prime Minister Charles Michel told reporters in Brussels late Sunday. The threat is "very serious and imminent," he said.
The move came a week after gunmen and suicide bombers caused carnage in restaurants, cafes and a concert hall in Paris -- 200 miles away -- in a spree that left 130 dead and many more injured. The connection to Brussels is strong: at least three jihadists behind the Paris terrorist attacks lived in the Brussels capital. Salah Abdeslam, one of two brothers believed to have been involved and now the focus of an international manhunt, comes from the Brussels district of Molenbeek.

Bars like Monk will lose thousands of euros by staying shut on a Saturday night, Devisscher said. Yet they may remain closed for longer. "I think it's better to wait -- I don't know how long this will stay -- maybe until they catch the guy?"
Brussels' cobbled alleyways that would normally be full of drinkers and diners were almost empty. In place of tourists and revelers, it was soldiers and armed police officers who patrolled past shuttered, dark cafes. Their armored vehicles rolled down empty streets hung with Christmas decorations.
"When we saw on the news this morning that we were on a level four alert, we decided to change our restaurant plans and moved the evening to a friend's house instead," Brussels resident Pauline Haon said. "Later in the afternoon, the Callens Cafe, where we reserved a table for 10, called us to say they were closed because of the terror alert and now we even have friends that were supposed to come tonight who no longer want to leave their house."
Anniversary Party
Cafe Roskam, with its fashionable art-deco wooden bar and tiled flooring, was supposed to be throwing its 11th anniversary party. Instead it welcomed just a small group of drinkers who said they refused to be intimidated.
"We aren't going to succumb to the panic," said Thierry Rivet as he smoked a hand-rolled cigarette on the cafe's doorstep. "I am out having a drink while everyone is telling you to stay at home. If we have to always live in fear of dying in an attack tomorrow, then we won't be doing much at all any more."
The terror threat level was last raised to 4, the maximum, in January, after Belgian police killed two suspected terrorists in a shootout in eastern Belgium that they said prevented a major attack on law-enforcement officers. This time, the target was feared to be public gatherings. The threat in Brussels will stay at the highest level at least through Monday afternoon, Prime Minister Michel said on Sunday.
At the Bar des Amis, manager Yezen Malouf remained defiant, keeping his doors open as he monitored the latest news on a laptop propped on the bar and played music to keep his nervous customers calm. "The regulars aren't here tonight, it's just some tourists with nowhere else to grab a drink," he said. Three staff were on duty in place of the usual eight.
"It's a quiet day -- it's a quiet walk around the city tonight," Malouf said.
Before it's here, it's on the Bloomberg Terminal.
LEARN MORE