pursuits
Final 'Hunger Games' Disappoints in Debut at Box Office
Anousha Sakoui and Sabrina Willmer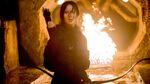 The film finale of "The Hunger Games," one of Hollywood's most valuable franchises, had the smallest debut of any in the Lions Gate Entertainment Corp. series.
"Mockingjay - Part 2," the fourth movie based on the Suzanne Collins young-adult book trilogy, collected $101 million in U.S. and Canadian ticket sales, Rentrak Corp. said Sunday in a statement. That was far short of expectations, including the $120 million estimate of Boxoffice.com.
Interest in "The Hunger Games" films has dropped off since the first two movies, which each opened above $150 million and grossed more than $400 million in domestic theaters. Lions Gate split the third book into two movies, a decision that prolonged the flow of ticket sales but may have tested the patience of the property's core audience of young adults.
"It shows that audiences will not automatically show up for the same brand over and over again," said Gitesh Pandya, an analyst at Box Office Guru. "The hardcore fans are still there," Pandya said, it's just that the film isn't attracting a new audience.
With the series coming to an end, Lions Gate, which made its name with young-adult fare like "Twilight,' has yet to find its next big hit. The Santa Monica, California-run studio has hinted it isn't finished with the characters, with a possible prequel in the making.
Global Box Office
''Mockingjay - Part 2" has taken in $247 million worldwide, according to a statement from Lions Gate.
"At the end of the day this franchise will be pushing in on $3 billion," said Paul Dergarabedian, senior media analyst at Rentrak. "The overall marketplace is down this weekend and has been for the past few weeks," because it is overly crowded and there are a lot of distractions in the world, he said.
The latest film, which had a reported production budget of $160 million, reunites the original cast. Jennifer Lawrence returns as Katniss Everdeen, the arrow-slinging teen who leads the resistance against a fictional totalitarian state that bears some resemblance to a future U.S.
She is rejoined by Julianne Moore as President Alma Coin and posthumously by Philip Seymour Hoffman as Plutarch Heavensbee. Seymour Hoffman died in 2014 while filming the final two "Hunger Games."
In the finale, the war for independence from the Capitol is reaching a climax. A reluctant poster child for the rebellion, Everdeen wants to take matters into her own hands and assassinate President Snow. Lawrence remains the key draw of this franchise, some critics said.
Best Reason
"As the dystopian epic's emotional, moral and physical heart, Lawrence once again delivers the best reason to stick with it," Michael O'Sullivan wrote in the Washington Post. The last installment rated slightly higher with critics than 2014's "The Hunger Games: Mockingjay - Part 1," but well below the first installment and its sequel, "Catching Fire." Of the critical reviews posted, 70 percent were positive, according to aggregator Rottentomatoes.com.
The movie faced little competition from other new releases. "Spectre," the returning James Bond film, dropped to second place in its third week with $14.6 million, while "The Peanuts Movie" fell to third.
"The Night Before," a new holiday comedy with Seth Rogen, took in $10.1 million and placed fourth. It was Rogen's first comedy since "The Interview" triggered one of the biggest cyberattacks ever against Sony Entertainment.
Childhood Tradition
In the film, Rogen and his two best friends, played by Joseph Gordon-Levitt and Anthony Mackie, seek out the Holy Grail of Christmas parties as they re-enact their childhood tradition of an annual Christmas eve reunion.
The Sony movie missed BoxOffice.com's weekend forecast of $16.5 million. It scored 64 percent positive reviews, according to Rottentomatoes.com.
Another new film, "The Secret in Their Eyes" featuring Julia Roberts and Chiwetel Ejiofor, collected $6.6 million for STX Entertainment, according to Rentrak. That missed a forecast of $7.2 million, from Boxoffice.com. The drama, revolving around a murder, scored only 41 percent positive reviews, according to Rottentomatoes.
Weekend sales for the top 10 films fell 13 percent to $160.6 million from a year earlier, Rentrak said. Sales for the year to date have increased 3.6 percent to $9.5 billion. The following table has U.S. box-office figures provided by studios to Rentrak. The amounts are based on actual ticket sales for Nov. 20 and Nov. 21, and estimates for Sunday.
Rev. Pct. Avg./ Total Movie
(mln) Chg. Theaters Theater (mln) Wks =============================================================== 1 Mockingjay 101.0 -- 4,175 24,198 101.0 1 2 Spectre 14.6 -57 3,659 3,990 153.7 3 3 Peanuts Movie 12.8 -47 3,671 3,487 98.9 3 4 Night Before, 10.1 -- 2,960 3,412 10.1 1 5 Secret In Their 6.6 -- 2,392 2,773 6.6 1 6 Love The Coopers 3.9 -53 2,603 1,508 14.9 2 7 Martian, The 3.7 -45 2,086 1,774 213.0 8 8 Spotlight 3.6 166 598 6,026 5.9 3 9 33, The 2.2 -61 2,452 914 9.9 2 10 Bridge Of Spies 1.9 -54 1,532 1,270 65.2 6
Top 10 Films Grosses
This Week Year Ago Pct.
(mln) (mln) Chg. ===================================
$160.6 $184.5 -13.0
Year-to-date Revenue
2015 2014
YTD YTD Pct.
(mln) (mln) Chg. ===================================
$9,510 $9,177 3.6
Source: Rentrak Corp.
*T
(Updates with analyst quote in fourth paragraph.)
Before it's here, it's on the Bloomberg Terminal.
LEARN MORE