business
Brussels Will Remain on Lockdown Monday With Metro, Schools Closed
By and
Schools, universities to be closed on Monday in capital region

Belgian government to reassess threat level Monday afternoon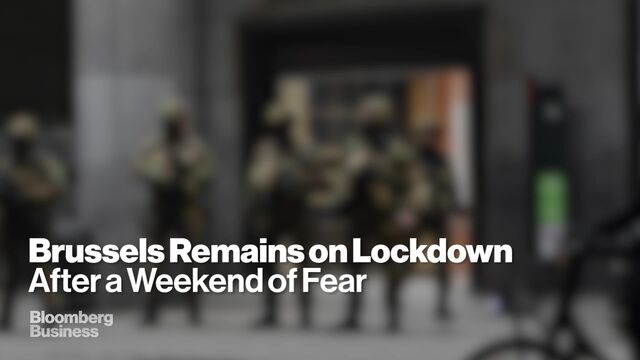 The terror threat in Brussels will stay at the highest level at least through Monday afternoon, meaning schools, universities and the entire metro network will remain closed amid fears of a major and imminent terrorist attack.
"What we expect is an attack similar to the one that unfolded in Paris with multiple people who launch offensives in many places at the same time," Belgian Prime Minister Charles Michel told reporters in Brussels late Sunday. The threat is "very serious and imminent," he said.
He said authorities suspected bars, shops and public transport to be the main targets. They will make a fresh assessment Monday afternoon. The city's terror threat has been at level 4, the maximum, since Friday night and will remain so at least until a re-analysis Monday afternoon. The rest of the country remains at level 3.
With most institutions of the European Union and NATO based in Brussels, security has been stepped up across the city. NATO and the EU said late Sunday that their facilities would be open on Monday with increased security. A meeting of euro-area finance ministers scheduled for Monday afternoon will go ahead as planned, the EU said.
'Hour by Hour'
"We are following the situation hour by hour," Belgium's Michel said. "Everything is put in place to find a way back to normal life as soon as possible."
Creches, shops, markets and cultural venues will also remain shut, said Rudi Vervoort, the minister-president of the Brussels region.
Brussels has been on alert since it emerged that at least three jihadists behind the Paris assaults on Nov. 13 had lived in the Belgian capital. Salah Abdeslam, one of two brothers believed to have been involved and now the focus of an international manhunt, comes from the Molenbeek district of the capital.
'Several Suspects'
Authorities are hunting more than one person, Belgian Interior Minister Jan Jambon told broadcaster VRT. "It involves several suspects; that's why we've put in place such a concentration of resources," he said.
Over the weekend Brussels kept its metro system closed, cancelled outdoor markets and cultural events and told people to avoid gathering in large groups. Police and soldiers patrolled the downtown area.
Bernard Clerfayt, mayor of the Brussels district of Schaerbeek, told RTBF that "there are two terrorists on the ground in the region of Brussels" and they could be planning "very dangerous acts."
Before it's here, it's on the Bloomberg Terminal.
LEARN MORE