Bill Gates 'Hopeful' China Will Amend Laws to Boost Philanthropy
Bloomberg News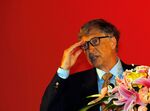 China should amend legislation to make it easier for philanthropy to grow, Microsoft Corp. co-founder Bill Gates said in an television broadcast Saturday.
"Certainly the status quo is not ideal," Gates said in an interview with state-owned China Central Television. He said his charity foundation had shared its thoughts with the country's ministry of civil affairs and had hired consultants to report on the issue.
"I'm very hopeful that we'll have iterations of laws that are appropriate to Chinese circumstances where taxes are not the same in other countries, the culture is not exactly the same," Gates said.
Gates was in Beijing Thursday to inaugurate the China Global Philanthropy Institute, an initiative that the Bill & Melinda Gates Foundation started with four other philanthropists including Alibaba Group Holding Ltd. founder and chairman Jack Ma.
Gates said in the interview that in various meetings with Chinese President Xi Jinping earlier this year, Xi has "always encouraged" him to "spend time" on Chinese philanthropy.
— With assistance by Clement Tan
Before it's here, it's on the Bloomberg Terminal.
LEARN MORE