Austin Kiplinger, Early Personal-Finance Journalist, Dies at 97
Laurence Arnold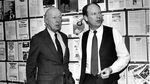 Austin Kiplinger, the longtime editor and publisher of personal-finance publications that connected official decisions in Washington to the wallets and pocketbooks of Americans, has died. He was 97.
Kiplinger died Nov. 20 at a hospice in Rockville, Maryland, the Associated Press reported, citing his son, Knight Kiplinger. The cause was cancer of the brain, which probably had spread from melanoma.
Known as "Kip," Kiplinger took over the publishing business started by his father, Willard Monroe Kiplinger. Its flagship, the Kiplinger Washington Letter, was introduced in 1923 and, according to the company, is the most widely circulated business-forecasting publication in the world. The weekly publication is now called the Kiplinger Letter.
Kiplinger started with the company in 1947 as the original executive editor of Kiplinger Magazine -- later to be called Changing Times, now Kiplinger's Personal Finance. It was a forerunner of today's many magazines geared to individual investors and family finances.
The timing, just after World War II, was propitious. "People were getting involved in the essentials of life -- buying a home, making a career and seeing to the future of their children," Kiplinger said in an interview marking the magazine's 50th anniversary in 1997.
"In my young family, the first thing we wanted was a toaster," he recalled. "Yes, we were going to have an electric toaster. Next on our list would be a washing machine and then a diaper service. It's difficult to remember a time when you couldn't just put those things on your Visa card. If you wanted to buy something, you had to save for it."
Money Management
Kiplinger said an article in one of the first issues of 1947, "Living on $5,500 a year," was "a seminal piece on money management."
He took over the newsletter franchise as well when he succeeded his father as president and publisher of Kiplinger Washington Editors Inc. in 1959. He turned over day-to-day control of the company to one of his sons in 1992, remaining as chairman.
Austin Huntington Kiplinger was born Sept. 19, 1918, in Washington. His mother, Irene Austin Kiplinger, returned to her hometown of Toledo, Ohio, when he was a boy, bringing his sister Jane with her. Kiplinger split time between the Washington home of his father and the Virginia home of his paternal grandparents, according to "Growing Up in Washington, D.C.," a 2001 collection of memoirs to which Austin contributed.
Coolidge, Hoover
In the book, Kiplinger recalled that the perquisites of growing up in the nation's capital included attending Calvin Coolidge's inauguration in 1925 and meeting Herbert Hoover during his presidential campaign.
Kiplinger started his journalism career while attending Cornell University in Ithaca, New York, where he wrote for the local newspaper as well as for the Associated Press. He graduated in 1939 and became a reporter for the San Francisco Chronicle.
As a Navy pilot in World War II, he flew torpedo bombers off carriers in the South Pacific. He returned to Washington after the war to launch the personal-finance magazine his father had conjured.
In 1948, he joined the Chicago Journal of Commerce as a business columnist. Moving to television, he became a national correspondent for ABC and NBC.
Covering the 1952 Republican convention in Chicago for ABC, Kiplinger lay down on the floor and pressed his ear to a door to hear the credentials committee, meeting privately, decide to back delegates supporting Dwight Eisenhower over Robert Taft, the Washington Post wrote in a 1998 profile.
Supporting Journalists
In 1965, Kiplinger and his father founded the Washington Journalism Center to support the work of young journalists. The group later merged with the National Press Foundation.
As chairman of the Kiplinger Foundation, and in memory of his father, Kiplinger endowed the Kiplinger Program of Public Affairs Journalism at Ohio State University.
He was a longtime trustee of Cornell, and served as the board's chairman from 1984 to 1989.
Kiplinger was married for 63 years to Mary Louise Cobb, known as "Gogo," who died in 2007. They restored and lived in a Maryland farm estate, Montevideo, built by descendants of Martha Washington, wife of the first U.S. president.
The Kiplingers' younger son, Knight, is president and editor in chief of the publishing company. Their older son, Todd, was vice chairman and vice president for investments. He died in 2008.
Before it's here, it's on the Bloomberg Terminal.
LEARN MORE