Volkswagen Submits Recall Plan to California Air Regulators
by and
Plan must pass muster with state board before further action

Advocates seeking pollution mitigation fund on top of fines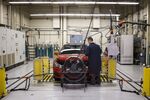 Volkswagen AG submitted its recall plan to regulators with the California Air Resources Board and federal counterparts Friday, a little more than two months after the company's cheating on diesel emissions tests was revealed by regulators from the state and the U.S. Environmental Protection Agency.
"Today, Volkswagen provided to EPA and CARB its initial proposal for addressing the emissions problems in the company's 2.0 liter diesel vehicles listed in EPA's September 18th Notice of Violation," the federal agency said Friday in a statement. "EPA and CARB will review the proposal." Details of the remedy weren't disclosed.
The German automaker has been negotiating with the authorities on details of a plan to deal with 482,000 diesel vehicles sold in the U.S. that used deceptive software to duck emissions requirements. California had given VW a Nov. 20 deadline to submit a plan; the agency now has 20 business days to respond.
"Based on ARB's review, VW may be required to revise and resubmit all, or specific elements of the recall plan," the board said in an e-mailed statement. "ARB will also consult with U.S. EPA during this process to develop a national recall plan."
The automaker said it continues to work with regulators toward an approved remedy.
"Volkswagen is committed to making things right and regaining the trust of our valued customers," Jeannine Ginivan, a spokeswoman, said in an e-mailed statement.
Proper Remedies
Beyond developing an effective fix for each of the three types of non-compliant 4-cylinder engines, VW must document any adverse impacts on vehicles and consumers. And since the emissions scandal centers on Volkswagen's use of a sophisticated "defeat device" to cheat, any proposed remedy -- whether that's retrofitting cars with new parts or revising software codes -- will need to be tested by California technicians before the plan is rolled out to consumers.
"We need to be sure that VW develops an effective fix for each of the three engine types in their cars, since each engine type (Gen 1, 2 and 3) uses different technologies to control pollution," ARB said on its website. "It is crucial that whatever action VW takes to fix these cars also protects the consumer. That means the fix will need to consider safety, drivability, fuel economy and the durability of the engine itself and the emission-control technologies."
Volkswagen has offered $1,000 worth of gift cards, half of which is to be spent at dealerships, to owners of cars with engines that pollute more than the law allows in an effort to identify the vehicles as it prepares to fix them. Democratic Senators Edward Markey of Massachusetts and Richard Blumenthal of Connecticut have called that amount a "pittance" and are calling on VW to buy back the affected vehicles.
Volkswagen faces three categories of cars that are problematic. The older cars -- known as Gen I -- will be the hardest to fix, as they lack the Selective Catalytic Reduction device that VW added to models like the Passat starting in 2012. Retrofits are often difficult and expensive for automakers. So-called Gen 2s may need additional hardware as well as software alterations, while Gen 3s may require just a software fix.
Separately, California Attorney General Kamala Harris as well as several attorneys general from other states are conducting criminal investigations into Volkswagen.
And the diesel-emissions scandal continues to widen. Earlier Friday, the EPA and the CARB said they expanded a notice of violation to include all 3.0-liter diesel-powered autos from model year 2009 to 2016 that originally went back only to 2014. The broader allegation covers about 85,000 VW, Audi and Porsche vehicles.
Dirty Air
While not necessarily part of the recall plan, Volkswagen is also facing demands for mitigation of the effects of its cheating.
Of the almost half a million dirty diesels that VW sold in the U.S., roughly 60,000 -- or 12 percent -- were sold in California. Many of those belong to relatively affluent, green-minded consumers who live in the San Francisco Bay Area and Los Angeles region. But emissions often get blown into the Central Valley, where air quality is among the worst and asthma rates for children among the highest in the state.
The Air Resources Board is developing an inventory of the pollution spewed into the air as a result of VW's cheating by looking at the amount of miles driven and the emissions profile of each of the three engine groups.
"VW will be held accountable for the extra emissions that the vehicles released to the air as part of ARB's enforcement case," ARB said on its website.

Mitigation Suggestions
Advocacy groups are pushing for a mitigation fund that could total hundreds of millions
of dollars to address the excess emissions of smog-producing nitrogen oxide.
"You can't unbreathe the dirty air you've already breathed," said Paul Billings, senior vice president for advocacy and education at the American Lung Association, in an interview Friday. "But you can make the air cleaner in the future than it would have been."
The Greenlining Institute, a nonprofit based in Berkeley, wants Volkswagen to offer incentives to help low- and moderate-income Californians drive electric vehicles, such as subsidizing leases for its electric Golf. It also suggests that VW pay for charging stations and electric-vehicle car-sharing in disadvantaged communities.
"In California, those who breathe the dirtiest air are disproportionately in low-income communities of color," wrote Sara Chandler of the Greenlining Institute in a blog post. "The only way to truly bring Volkswagen to justice is to help those communities get access to clean transportation and cleaner air."
Before it's here, it's on the Bloomberg Terminal.
LEARN MORE