business
Obama Visits Refugees in Malaysia as U.S. Debates Syria Migrants
By and
They are like our kids and deserve our support, Obama says

Visit follows call by U.S. lawmakers to review refugee program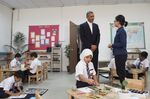 Three days after saying Republicans were "scared of widows and orphans" seeking refuge in the U.S., President Barack Obama visited a refugee center in Malaysia to drive home his call for more compassion in response to a global migrant crisis.
"They're just like our kids and they deserve support," Obama said Saturday after touring the Dignity for Children Foundation in Kuala Lumpur. "The notion that somehow we would be fearful of them, that our politics would somehow leave them to turn our sights away from their plight, is not representative of the best of who we are."
Obama's visit to the migrant center was planned long before terrorist attacks in Paris sparked a renewed debate over his plan to bring more than 10,000 Syrian refugees to the U.S. over the next year. The visit took on new relevance after U.S. lawmakers -- including about a third of House Democrats -- called for Obama to pause or halt the program, citing security concerns.
The White House on Friday reiterated Obama's pledge to veto legislation that would add additional vetting requirements for Syrians seeking refuge in the U.S. Obama could face a showdown over the bill, which passed the House this week with a veto-proof majority. The refugee debate has ignited the U.S. presidential campaign as well.
"We're telling the administration to step up," Representative Martha McSally of Arizona said Friday in the weekly Republican address that focused on combating the Islamic State, or ISIS. "Take this terrorist threat seriously. The fight against ISIS is a generational conflict, and we must lead now more than ever."
Migrant Crisis
With almost 20 million refugees worldwide, countries in Europe, Asia and Africa are experiencing the worst migrant crisis since World War II, according to the United Nations. Terror attacks in recent days have killed scores in Lebanon, France, Turkey, Mali and Nigeria -- highlighting one of the main drivers of migration. More than four million have fled Syria since 2011 amid that country's civil war. The mass exodus has strained government resources in countries like Turkey and Jordan, and across the European Union.
Malaysia, where Obama is on the final stop of a nine-day trip to Asia, has taken in thousands of Rohingya Muslims fleeing persecution in Myanmar. There were 153,880 refugees and asylum seekers in Malaysia as of Aug. 31, according to the UN High Commissioner for Refugees.
The Rohingya are a Muslim minority that primarily live in Myanmar and make up the largest group of stateless people on the planet. There are about one million Rohingya in Myanmar and almost all of them are denied citizenship, can't vote and lack basic legal rights. They have been targeted in violent attacks by militant Buddhists.
Obama chatted at the refugee center with about a dozen young children wearing uniforms in a classroom with a world map and a pet rabbit as the kids were busy with craft projects.
'Welcome Refugees'
"We've shown that we can welcome refugees and ensure our security; that there's no contradiction," he said after touring the facility. The U.S. will remain a place where people who are discriminated against have refuge "as long as I'm president."
After a wave of violence in 2012 that killed hundreds, more than a 100,000 Rohingya were relocated to refugee camps within Myanmar and remain stateless and homeless. More have tried to flee since anti-Rohingya violence of 2012.
The UN believes 120,000 Rohingya have fled in the past three years, including an estimated 25,000 by boat earlier this year. Thousands more may be trapped and being held as slaves by human traffickers, and either being forced to work or being held for ransom. In May, mass graves were exhumed at jungle camps in Thailand that are believed to contain the bodies of Rohingya who had been held by human traffickers to extort money from their families or to to be sold as slave laborers in the Thai fishing industry. The EU is considering banning certain Thai fish products because of the use of Rohingya and other slave labor.
Myanmar's previous military leaders and the outgoing quasi-civilian government say that the Rohingya are not Burmese and are considered illegal settlers from Bangladesh, even though many have been in the country for generations.
Aung San Suu Kyi, the Nobel peace price winner who just swept to power in Myanmar with a commanding majority in parliament and is an ally of the U.S., barely spoke of the Rohingya during the campaign. One of her aides told the Telegraph this week that the Rohingya issue is not a priority for the new government.
— With assistance by Andrew Davis
Before it's here, it's on the Bloomberg Terminal.
LEARN MORE