Air Wars
John Kasich Won't Repudiate Super-PAC Attack on Trump, Carson
It's "fair to compare ideas," the Republican presidential underdog says on Bloomberg's "With All Due Respect."
By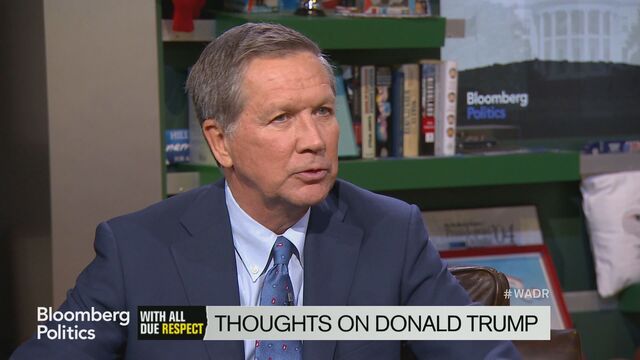 Republican presidential candidate John Kasich on Friday refused to repudiate an attack ad that a super political action committee supporting him has launched against his two leading rivals, even before he has watched it.
"I haven't seen the ad, but apparently they put something out," Kasich said when asked on Bloomberg Politics' With All Due Respect about an ad that has begun airing in New Hampshire, where the first presidential primary will be held. The ad, paid for by the pro-Kasich super-PAC New Day for America, suggests that Republican presidential front-runners Donald Trump and Ben Carson, neither of whom have ever held public office, would require "on the job training" to handle the threat posed by the Islamic State.
The super-PAC reportedly is prepared to spend $2.5 million airing the ad. Legally, Kasich is not permitted to coordinate with the super-PAC, but he said he would repudiate its ads if they go "over the line" and become personal attacks.
In an interview with Bloomberg's Mark Halperin and John Heilemann, Kasich said he has tried to run a positive campaign but that taking some shots at opponents is legitimate. "I think it's fair to compare ideas and that's what this is all about," he said, noting that Trump has proposed setting up a registry for Muslims (an idea he since has backed off) and proposed sending an estimated 11 million people living in the U.S. illegally back to their home countries. Kasich mockingly suggested that such an endeavor would require "a deportment brigade."
"I just think his ideas reflect a lack of experience and a lack of knowledge about how things work," said Kasich, an Ohio governor who, as member of the U.S. House of Representatives, chaired the House Budget Committee.
"I ultimately think people will turn to experience," Kasich said. 
Kasich added that he's worried Trump's proposals will alienate voters in his state, a perennial battleground. "I'm the governor of Ohio," he said. "We can't win the White House unless we win Ohio."
New Day for America's ads questioning the Republican front-runners' credentials come amid other signs that some in the party are becoming concerned about the way the nominating contest is going. Liz Mair, a former online communications director for the Republican National Committee, on Friday confirmed via Twitter a Wall Street Journal report that that she has established "Trump Card LLC," a corporate entity that can take anonymous donations in unlimited amounts to target Trump.