Wall Street Regulators Said to Step Up Leveraged-Loan Focus
by
JPMorgan, Deutsche Bank, Credit Suisse among firms reviewed

Fed, OCC seek to curb risky deals as loan market founders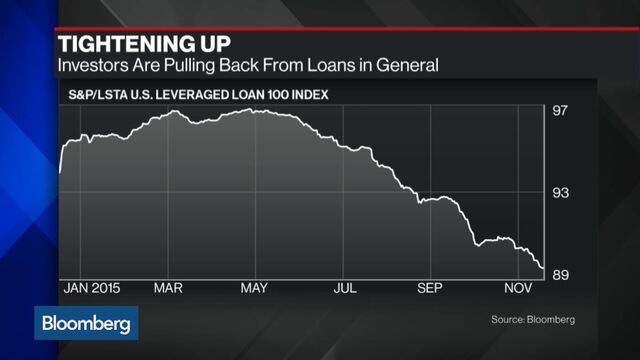 Federal regulators have started to intensify their scrutiny of risky company loans extended by Wall Street's biggest banks, just weeks after completing an annual audit of corporate lending, according to people with knowledge of the matter.
JPMorgan Chase & Co., Deutsche Bank AG and Credit Suisse Group AG are having their lending practices examined again, said the people, asking not to be identified because the information isn't public. Canada's Toronto-Dominion bank is also under review, they said. The move is the first step toward more frequent reviews of all lenders, the people said.
Banking regulators have been trying for more than two years to curb excessive risk-taking by Wall Street's biggest lenders as they seek to limit bank exposure to loans made to heavily indebted companies. Their campaign is back in the spotlight as investors shy away from highly levered buyout loans. This week, a group of lenders led by Bank of America Corp. and Morgan Stanley postponed a $5.5 billion debt package backing the biggest leveraged buyout of the year after struggling to sell the debt to investors.
Deteriorating Standards
"Eventually a day of reckoning arrives," U.S. Comptroller of the Currency Thomas Curry said in a speech this month, referring to deteriorating lending standards. He cited relaxed credit underwriting and increased loan concentrations as concerns as banks increased "their participation in riskier products, such as leveraged lending."
Representatives for JPMorgan, Deutsche Bank, Credit Suisse and Toronto-Dominion declined to comment, as did representatives for the Federal Reserve, OCC and Federal Deposit Insurance Corp.
Starting in 2016, the so-called shared national credit review process that examines risk in the largest and most complex credits shared by multiple financial institutions will be carried out twice a year instead of once, people familiar with the matter said earlier this year.
Too Risky
The Fed, OCC and FDIC have already completed this year's joint annual credit review of Wall Street underwriters' loan portfolios. The regulators again pushed banks to comply with the leveraged lending guidelines first published in 2013. They concluded this month that leveraged lending by U.S. banks remains too risky, and that deals originated in the past year with a high level of borrowed money had weak structures.
The regulators have been flagging more loans as problematic this year than in the past, according to the head of leveraged finance at one bank, who asked not to be identified because the information isn't public.
More than $15 billion of debt offerings of both loans and bonds made to below investment-grade companies have been rejected by investors or sold at steep discounts since October, according to data compiled by Bloomberg. Bank of America and Morgan Stanley couldn't offload debt backing Carlyle Group LP's $8 billion purchase of Symantec Corp.'s Veritas data storage business this week despite making significant revisions to the terms of the offering to entice investors.
When banks that commit to funding acquisitions sell the debt at discounted rates, they can be forced to make up the shortfall -- eating into their underwriting fees, or even creating losses on those deals.
The average price of leveraged loans slid to 89.5 cents on the dollar Thursday, the lowest level in four years, according to a gauge of the largest, most liquid loans in the market.
Oaktree Capital Group LLC's Howard Marks told Bloomberg Television on Friday that investors shying away from risky deals was a sign of a healthy market.
"These are all indications of a more sober market, which is saying there's such a thing as too much debt issued, there's such a thing as an over-levered company, there's such a thing as too low a yield, there's such a thing as too weak a structure," Marks said in the interview.
Before it's here, it's on the Bloomberg Terminal.
LEARN MORE