markets
Wal-Mart Proves That 'Equities Are the New Bonds,' According to This Strategist
Debt valuations have "completely divorced" from their long-term trend, says Fundstrat's Thomas Lee.
By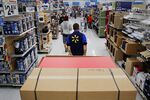 Remember the Great Rotation?
For years, Wall Street strategists have been talking about how the death of the decades-long bond bull market meant a major shift in asset allocation towards equities was just around the corner.
Fundstrat Managing Partner Thomas Lee has taken this narrative a step further, writing that "equities are the 'new bonds' in 2016."
Households' direct ownership of stocks has dropped by $2 trillion since 2007, he notes.
"Since 1950, this is the largest liquidation of stock holdings in history, greater than the 'death of equities' period from 1979-1989," he wrote.

Equities remain modestly more expensive than average, but valuations in fixed income have become completely divorced from their long-term trend, according to Lee.
"When one thinks about rising rates and higher inflation, doesn't it make sense bonds cheapen even faster?" he muses, citing a "compelling" argument for equities on the basis of valuation.
Lee also offered an ironclad case for why buybacks, a driver of earnings per share growth and share price appreciation since the financial crisis, have surged in popularity. He observed an unusual phenomenon across a sizeable share of companies, in which the cost of making dividend payments is greater than the cost of servicing their longer-term debt.
"As shown, 130 investment-grade companies with dividend yields exceeding their own long-term bond yields (seven- to 10-year maturities). This is really surprising, particularly as the vast majority of these companies are investment grade. Think about this, this is the same entity with both a long-term bond and an equity. All things equal, the bond yield should be higher than the dividend yield (not earnings yield). Of these 130 issuers, they are concentrated in financials, utilities, energy and industrials. There is a major incentive for these companies to borrow money and buy their own equities—creating their own natural buyers."
He highlighted, Wal-Mart is one example of this peculiar development:

Given this backdrop, it'd be extremely puzzling if these companies weren't issuing debt to repurchase shares.
The prospect of rising rates and the healthy number of blue-chip stocks that provide more fixed income than fixed income (though dividends are, of course, subject to change) sets the stage "for a major re-allocation into equities," Lee concludes, with households potentially rejoining corporates as the "natural buyers" of equities.
Before it's here, it's on the Bloomberg Terminal.
LEARN MORE