U.S. Troops' Role in Mali Standoff Underscores Growing Mission
by and
Two U.S. military personnel provided support to Mali's forces

Africa Command, established in 2007, focuses on training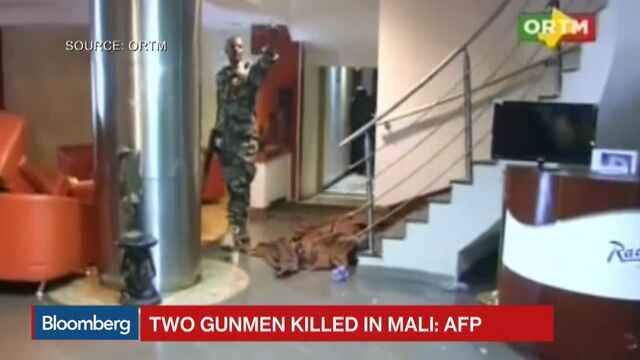 The U.S. military's help in responding to a hostage-taking in Mali's capital underscored the expanding American counterterrorism presence in Africa.
Two U.S. special-operations personnel volunteered support for the Malian military personnel who stormed a luxury hotel in Bamako, according to U.S. Africa Command. At least 22 people were killed in the attack before the siege ended, including at least two of the militants, according to a spokesman for Mali's army.
The American personnel happened to be at the U.S. embassy in Bamako for a meeting when the attack occurred, Navy Lieutenant Anthony Falvo, a spokesman for the command known as Africom, said Friday in a telephone interview. One went to a command-and-control center that Mali's military set up, while the other went to the hotel and assisted in moving evacuated guests to a safe location, Falvo said.
"At no time were U.S. personnel inside the hotel.," Falvo said. "They weren't kicking down doors, they weren't shooting bad guys. The Malian forces were in control of this operation from the start. We were simply providing support."
That underscored the support role of Africom, which began operating in 2007 as one of the U.S. Defense Department's six geographical combat commands. It's based not on the continent but in Stuttgart, Germany. And rather than engage directly in combat, Africom has expanded with a mission to help train militaries across the continent so that they can confront militant groups such as al-Qaeda and Boko Haram.
Currently there are 26 U.S. military personnel in Mali, a landlocked country in West Africa with a population of about 14.5 million people. They support various missions, including with the United Nations, Falvo said. Ten of the Americans are providing planning assistance for a UN stabilization force, and six are permanently assigned to the U.S. defense attache, he said. The others are there on temporary duty.
When the hotel attack happened, "it was situation where they were in the right place at the right time," Falvo said. "They were just able to provide support where they could."
Before it's here, it's on the Bloomberg Terminal.
LEARN MORE