S&P 500 Has Best Week in 2015, Nike Paces Consumer Shares Rally
by
Nike bolsters consumer shares on buyback, dividend boost

Selloff in energy Friday restrains equities' weekly advance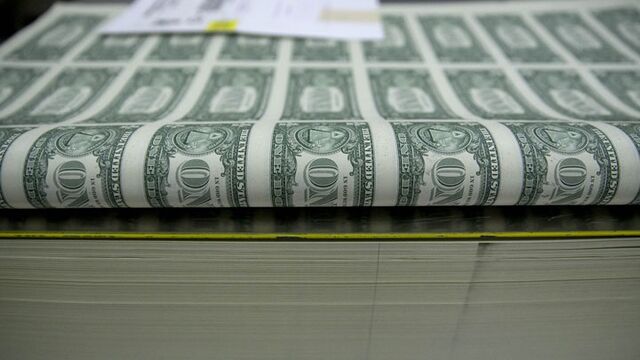 U.S. stocks advanced, with the Standard & Poor's 500 Index capping its best weekly gain this year, as Nike Inc. paced a rally in consumer companies and European Central Bank President Mario Draghi hinted at additional stimulus.
Equities reversed most of last week's selloff, boosted by a snap-back among retailers in the S&P 500. The group was on track for its strongest week in four years, immediately after suffering the worst weekly drop since 2011. Ross Stores Inc. and Gap Inc. helped power the sector's rally Friday. Nike's 5.5 percent gain bolstered the broader consumer group on its $12 billion buyback plan and dividend increase.
The S&P 500 added 0.4 percent to 2,089.17 at 4 p.m. in New York, after rising as much as 0.8 percent. Declines in energy and consumer staples shares whittled down earlier gains. The Dow Jones Industrial Average rose 91.06 points, or 0.5 percent, to 17,823.81, with Nike contributing about 46 points to climb. The Nasdaq Composite Index increased 0.6 percent. About 6.9 billion shares traded hands on U.S. exchanges, 8 percent below the three-month average.
"There's continued upward momentum in the market as people get more comfortable with the fact that rates are probably going up, and they're only going up because the economy is strong enough to justify that," said Michael James, managing director of equity trading at Wedbush Securities Inc. in Los Angeles. "I don't think people were positioned for that coming into the week, and I think that's why you've seen the market do as well as it has."

Ross Stores jumped 10 percent after posting better-than-estimated earnings and boosting its profit forecast. Gap rose the most since 2013, even after cutting its profit outlook. Abercrombie & Fitch Co. surged 25 percent after its results beat analysts' expectations, and tax software maker Intuit Inc. rallied 5.9 percent on a higher revenue outlook. Energy companies fell as oil declined for as third straight week amid a global crude glut.
The S&P 500 rose 3.3 percent this week, the most since December, as shares rebounded from the worst weekly decline in almost three months. Minutes from the Federal Reserve's October meeting released Wednesday stressed that the pace of any interest-rate increases will be gradual, reassuring investors that higher borrowing costs won't derail economic growth. The index has rallied 12 percent from its August trough and is 2 percent from its all-time high set in May.
While U.S. policy makers are preparing investors for higher interest rates, the ECB's Draghi hinted at further stimulus measures, saying today that the institution will do what's necessary to reach its inflation goal rapidly. His comments underline a concern that the inflation rate in the euro area will slip further amid a high degree of economic slack and slumping oil prices. The central bank's next monetary policy meeting is Dec. 3.
Fed Speak
Fed Bank of St. Louis President James Bullard said today investors should prepare for uncertainty on whether the Federal Open Market Committee will raise its target interest rate at each meeting next year, as the era of signaling moves is over.
Fed Bank of New York President William C. Dudley reiterated in comments Friday that a rate decision in December will be dependent on economic data. Fed Vice Chairman Stanley Fischer said late Thursday the central bank has done its best to prepare international markets for higher rates.
Recent data has bolstered the case for raising borrowing costs for the first time since 2006, with the latest payroll report -- released after the Fed's October meeting -- showing the biggest increase in hiring this year while claims for jobless benefits hover near four-decade lows. Traders are now pricing in a 68 percent probability that the Fed will raise rates next month.
"A rate hike has got to be the central case for December," said Alex Scott, who helps oversee about $14 billion as Seven Investment Management's deputy chief investment officer. "It's important that the Fed's language is couched in very dovish terms to offer significant reassurance to investors. The fact that we saw some very strong gains in the market just this week is a fairly good sign that markets are prepared to deal with it."
With the earnings season drawing to a close, profits from S&P 500 companies have fallen by about $25 billion in the first three quarters of the year, according to data compiled by Bloomberg. A sharp rally in the dollar has hit exporters while a drop in oil prices has hurt energy firms. Aggregate revenue for members in the benchmark has dropped $287 billion compared to a year ago.
The Chicago Board Options Exchange Volatility Index fell 9 percent Friday to 15.47. The measure of market turbulence known as the VIX lost 23 percent this week after a 40 percent surge last week, which was the most since August.
Six of the S&P 500's 10 main industries advanced, with health-care, consumer discretionary and technology stocks leading the gains. Energy, consumer staples and phone companies fell the most.
Consumer Shares
Consumer discretionary stocks climbed 1.2 percent, rising for a fifth consecutive day. Ross Stores, Gap Inc. and Nike each added more than 5.4 percent. An exchange-traded fund of retail stocks rose 2 percent, the most in three weeks.
Health-care stocks climbed 0.7 percent, led by Aetna Inc. and Allergan Plc. Aetna surged 4.5 percent, the most since April 2014, after the company reaffirmed its forecast for 2015 earnings.
Allergan gained 3.5 percent on news that Pfizer Inc. is in advanced talks to buy the company for as much as $380 a share. Medical equipment maker C.R. Bard Inc. climbed 3 percent after agreeing to acquire Liberator Medical Holdings Inc. for about $181 million.
Industrial stocks rose to the highest level since June, led by CSX Corp., which advanced 2.3 percent to the highest since August. An index of railroad stocks rose for the fifth consecutive day. Rockwell Collins Inc., Lockheed Martin Corp. and Raytheon Co. advanced at least 0.8 percent, with all three military hardware companies rising for a fifth day following the terrorist attacks in Paris.
Among the worst performers in the benchmark gauge were Southwestern Energy Co. and Chesapeake Energy Corp., which fell more than 5.9 percent to levels last seen more than 10 years ago. A slump in oil prices helped drag down energy stocks for a second day. Chevron Corp. declined 2 percent to fall for the third time in four days.
Chipotle Mexican Grill Inc. tumbled 12 percent to its lowest in almost 18 months after the Center for Disease Control said three additional states have reported people sickened with a strain of E.coli linked to the company's restaurants.
Akamai Technologies Inc. and Autodesk Inc. were among the biggest decliners in the S&P 500 and the worst performers among tech companies, losing more than 2.9 percent. Goldman Sachs Group Inc. cut Akamai to sell from neutral, while Autodesk was reduced to the equivalent of neutral from buy at RBC Capital Markets Corp.
Before it's here, it's on the Bloomberg Terminal.
LEARN MORE