Art
Would You Pay $550,000 for a Tintin Cartoon?
No fewer than 137 lots hit the block at Artcurial on Nov. 21.
by
Tintin, that indefatigable (cartoon) boy-reporter created by the Belgian Hergé (George Remi) in 1929, has captured the hearts and minds of children and adults for the past 90 years. He's also snared the attention of a devoted group of deep-pocketed collectors. Last month, a double-page strip from King Ottokar's Sceptre sold for €1.6 million ($1.7 million) at Sotheby's in Paris, and a record was set the year before when original art for Tintin and the Shooting Star sold for almost $3 million at the Brussels Antique Fair. 
This weekend, Tintin will face yet another test as dozens of Tintin-themed lots hit the auction block at Artcurial, a Paris auction house whose stately headquarters look out onto the Champs-Élysées. The top lot is an extremely rare original plate from Tintin Au Congo (a 1930-31 serialized comic-cum-book that glorifies Beglium's appalling colonial history, turns the Congolese into racially problematic caricatures, and, as icing on the cake, plugs big game hunting). It carries a high estimate of $550,000, an amount Eric Leroy, the specialist who organized the sale, describes as reasonable for the current market. "It's not uncommon to find drawings by Hergé for more than half a million" euros, he says. "There's an Hergé museum, and they have maybe 98 percent of his production; original plates are very hard to find."
Leroy estimates that only 40 to 50 original plates are on the market. "The real problem," he says, "is to find masterpieces to put in auctions, because people have collected for a long time, and they hold on to what they buy."
Below, check out the top lots of the sale. Will Tintin prevail? If he made it to the moon and back, chances are he'll make it through an auction ….
First edition, Tintin in the Congo, 1946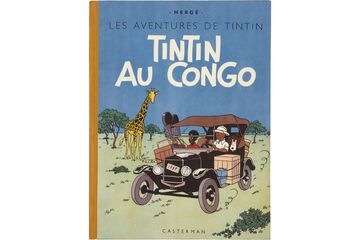 Estimate: €8,000 to €9,000
Ink and collage cigar advertisement, 1970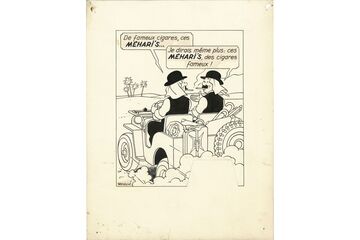 Estimate: €12,000 to €15,000 
The Broken Ear illustration for a coloring book, 1950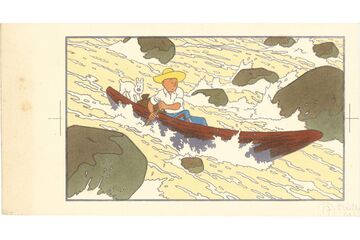 Estimate: €4,000 to €6,000 
Tintin, Snowy, and Rocket drawing, 1953-54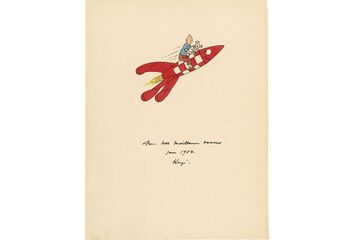 Estimate €30,000 to €40,000 
Original plate from Tintin in the Congo, 1937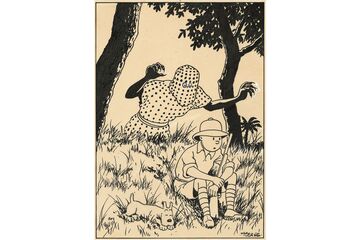 Estimate: €300,000 to €500,000 
Page from a pop-up book version of Red Rackham's Treasure, 1970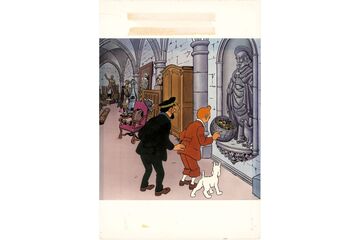 Estimate: €60,000 to €80,000 
Ink drawing for the Tintin TV show, 1977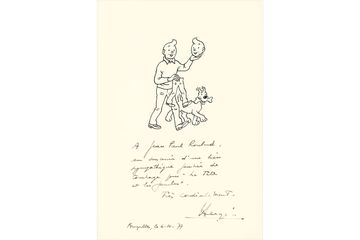 Estimate: €12,000 to €15,000 
A "backup copy" of a strip from The Shooting Star, 1942
Estimate: €65,000 to €85,000
A charcoal drawing from The Red Sea Sharks, 1958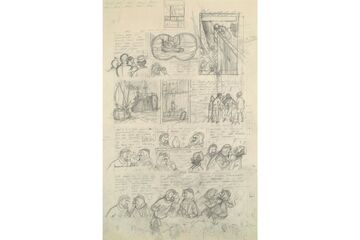 Estimate: €180,000 to €220,000 
First edition, Tintin in America, 1946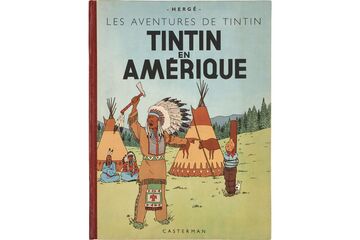 Estimate: €8,000 to €10,000
Before it's here, it's on the Bloomberg Terminal.
LEARN MORE