This Is What a Second-Tier Football School Does With a 10-0 Team
by
Board votes to double pay of first-year football coach Herman

Also approves $60 million budget for basketball renovation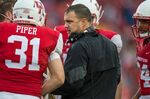 The University of Houston football team is 10-0 under its first-year coach -- a feat the Texas school's leaders say validates the millions recently spent on improvements to its athletic program and merits another round of spending.
The University of Houston board of regents voted to more than double Tom Herman's salary to $3 million, making him the highest paid coach among the "Group of Five," the smaller conferences that play high-level college football. 
Houston's basketball arena will also get a $60 million renovation, which follows the completion of a $125 million football stadium in August 2014, a nearly-finished $25 million basketball practice facility, and the addition of college baseball's largest video board, now showing at Cougar Field.
"Our Tier One University has a nationally relevant football program, and we will keep it that way," said Chairman of the University of Houston system and billionaire restaurateur Tilman Fertitta. "We understand the link between academics and athletics. Our actions are designed to help the academic mission by increasing our exposure to the entire country."
Houston's perfect start puts the Cougars in position to play in a New Year's Day bowl game, which would garner a $4 million payout for its league. The top-rated Group of Five champion is guaranteed a spot, and Houston will secure that if it wins out and captures the American Athletic Conference championship. Should the Cougars fall in the league's first-ever title game, they would be relegated to a lesser bowl game with smaller financial reward.
The gap between college football's haves and have-nots widened last year when "Power Five" conferences -- Big Ten, SEC, ACC, Big 12, Pac-12 -- were freed from some of the NCAA's restrictions on spending. Under the new College Football Playoff system, these conferences each get about $51 million this year; the Group of Five will split about $79 million among themselves.
The American, formed in 2013 from the football schools in the old Big East, is caught in the middle. Conference commissioner Mike Aresco said Houston's financial commitment shows that the conference intends to compete at the highest level across all sports.
"The Houston financial commitment demonstrates once again that our programs are sustainable at the highest level because we have committed and visionary leadership at our institutions that is making the necessary investment in their programs," Aresco said in an e-mail.
Herman, who was the offensive coordinator for last year's title-winning Ohio State team, has not yet been presented with the offer, which will also include increased performance incentives. His current deal includes a $50,000 bonus and allows for a $50,000 raise for a conference title, and a $100,000 bonus for playing in a major New Year's bowl game, according to documents obtained by Bloomberg News through open records requests.
The proposed salary bump will be funded by auxiliary revenue and donations, many of which have already been raised, according to Fertitta. No state funds will be used, he said. Of the department's $45.4 million budget in the fiscal year ended August 2015, $11.3 million -- 25% -- was spent on football, according to data schools submit to the U.S. Department of Education.
Basketball is next. Houston's men's basketball team has been to one NCAA tournament in the past 23 years; the women's team, to three. The Houston board Thursday approved $60 million to start the renovation process for Hofheinz Pavilion, a budget that includes a $20 million pledge from an anonymous donor. The facility is expected to open for the 2018-19 season and will have more than 2,000 premium seats, including 20 loge boxes and two open-air suites.
A public research university with about 33,000 undergrads, Houston moved to the American in 2013 after almost two decades in Conference USA.
Before it's here, it's on the Bloomberg Terminal.
LEARN MORE