Taiwan's Ma Says History Better Judge of Presidency Than Polls
by and
Ma says he hasn't allowed political conflicts to stop reforms

Taiwan needs to cooperate economically with China, Ma says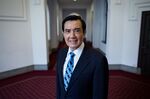 Taiwanese President Ma Ying-jeou, reflecting on his tenure that ends in May, said he believes history will view his administration more favorably than his low approval ratings that have been reflected in polling.
In an interview at his offices in Taipei Thursday, Ma said if he'd worried too much about his poll numbers he wouldn't have been able to push forward the policies he believes Taiwan needs. The most-contentious among those has been his embrace of economic ties with China, which has sparked protests including a three-week occupation of Taiwan's legislature by students opposed to a services trade pact.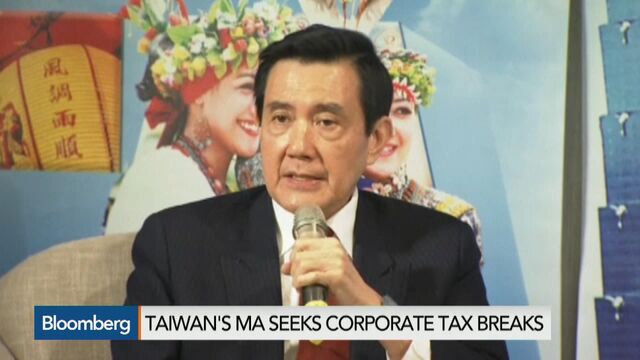 "Taiwan is a society where political opposition is very intense," Ma said. "Sometimes, no matter what I say or how nice I make it sound, I can't obtain support, but it is because I know this that I'm not afraid to do what I should."
While Ma's declining popularity hasn't dissuaded him from endeavors such as seeking the first meeting with a Chinese president in seven decades, it has contributed to waning support for his Kuomintang Party ahead of January elections to pick his successor. A Nov. 8 poll by broadcaster TVBS found Tsai Ing-wen, candidate for the opposition Democratic Progressive Party, leading the KMT's Eric Chu by a margin of 43 percent to 27 percent.
Public Understanding
"Actually, there are many good policies the public doesn't understand because we haven't communicated them enough," Ma said. "I pay attention but I'm not concerned, because if you are overly concerned, then a lot of reforms you just can't push," he said of polls.
That tack is something the DPP and Tsai have highlighted on the campaign trail. They accuse Ma of practicing an opaque form of policy making that they've taken to calling a "black box." When Ma's office surprised the world earlier this month by announcing he would be meeting Chinese President Xi Jinping in Singapore, Tsai was quick to question why the planning was kept secret.
Governed separately since a civil war in 1949, Taiwan has become economically dependent on China while militarily focused on defending itself against the mainland, which considers the island a renegade province to be taken by force if necessary. The resulting discourse of how to interact with China dominates political debate, with the KMT advocating stronger ties and the DPP backing a more cautious stance.
Ma has been unwavering in his support for closer ties. It was his pledge to increase economic links with China that helped Ma win the presidency in 2008 with more than 58 percent of the popular vote, the highest total since Taiwan began direct elections in 1996.
Cruel Reality
"Globally, no country can ignore China," Ma said Thursday. "You may not like their rules, you may not support some of their undemocratic practices, but in terms of economics, this is a very real and cruel reality."
While closer links opened markets for Taiwanese companies, it has also resulted in the loss of manufacturing jobs as factory owners moved their operations to China. About 40 percent of Taiwan's exports are bound for the mainland.
More recently those links to the world's second-largest economy have adversely affected Taiwan. Slowing growth in China means less demand for Taiwan's goods, prompting the first quarterly contraction since 2009 in the three month period that ended Sept. 30.
Economic links also haven't greatly increased wage growth. Household incomes rose an average 0.63 percent annually from 2008 through 2014 during Ma's tenure, compared with a 0.3 percent pace from 2000 to 2007. Both rates fall far short of the 1990s, when Taiwanese households saw income gains clocking 7.54 percent.
Ma's support had begun to slide by 2012, when he defeated the DPP's Tsai to win re-election with a thinner 51.6 percent of the popular vote. A poll by TVBS in May this year, the seventh anniversary of Ma's presidency, put his approval rating at 16 percent, which represented an increase from a low of 11 percent in 2013.
Sunflower Movement
Opposition to Ma's China policies reached a climax in March 2014, when students opposed to a services trade agreement his administration signed with the mainland stormed and occupied parliament so it could not be approved. When they later tried to also take the cabinet compound, police cleared them with water cannons and batons. Three weeks after those clashes, the students also ended their occupation of the parliament. The services trade pact has yet to be approved.
"I regret that we weren't able to engage in a rational discussion about it," Ma said about the students, adding he sympathizes with their motivations as he was also once a student activist. "We should seize opportunities to strengthen our services industries to help Taiwan."
As the interview drew to a close, he also noted his affinity for the philosophy of Chinese scholar Luo Jialun, a leader of the May 4 Movement in 1919 in which students championed nationalism, science and democracy as well as the use of vernacular written Chinese. Ma recited from memory a line from Luo's book "A New View on Life" that says "A strong man is constituted by three elements: a savage body, a civilized mindset and an uncompromising will."
Before it's here, it's on the Bloomberg Terminal.
LEARN MORE