Obama Won't Alter Pollard's Parole to Allow Travel to Israel
by
Israeli leader regrets he couldn't get Pollard released before

`I almost succeeded' once or twice, Netanyahu tells cabinet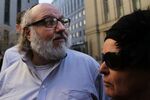 Prime Minister Benjamin Netanyahu expressed confidence that Jonathan Pollard, who was paroled last week after serving 30 years in U.S. prison as a convicted spy, will eventually be allowed to come to Israel.
Noting years of direct appeals he made to U.S. leaders for Pollard's freedom, Netanyahu offered Israel's "appreciation" Sunday for the former naval intelligence analyst's release, even though he cannot leave the U.S. for five years and must wear an ankle bracelet transmitter to record his whereabouts.
"As someone who was very active for his release over the years with U.S. presidents Clinton and Obama, I regret that we were not able to get him out earlier," Netanyahu said at his weekly cabinet meeting in Jerusalem, according to remarks his office sent by e-mail. "I almost succeeded once or even twice, but I am glad he was released to freedom, relatively. In the future, I am certain that we will see him in the country."
President Barack Obama has no plans to grant permission for Pollard to travel to Israel, Deputy National Security Adviser Ben Rhodes told reporters Nov. 20, adding that Netanyahu has regularly raised the issue in conversations with the U.S. leader.
At points during efforts to broker an Israeli-Palestinian peace accord, U.S. negotiators have discussed releasing Pollard as an inducement for Israeli compromise, but the proposal repeatedly fell through.
Pollard, 61, was convicted of passing classified U.S. material to Israel. He was sentenced to life imprisonment on Nov. 21, 1985, and freed last week on parole.
During the cabinet meeting, Netanyahu also condemned the decision by Germany's KaDeWe department store to honor new European Union guidelines for labeling goods from Israel's Jewish settlements in the West Bank and Golan Heights. Noting that the store had once been owned by Jews and taken over by the Nazis, Netanyahu called for action by the German government.
"It started with labeling products and now we are told that the products have been removed from the shelves – a boycott in every respect," Netanyahu said. "We strongly protest this step, which is unacceptable morally, historically and on its merits."
The EU on Nov. 11 recommended member states label the origin of goods imported from Israeli settlements, which the EU views as having been built in breach of international law and as obstacles to Israeli-Palestinian peacemaking.
Before it's here, it's on the Bloomberg Terminal.
LEARN MORE