Mali Shows Jihadist Threat to Africa's 'Soft Targets', U.S. Says
by and
Militants seek to raise profile, head of Africa Command says

Attacks can boost appeal to potential financiers and recruits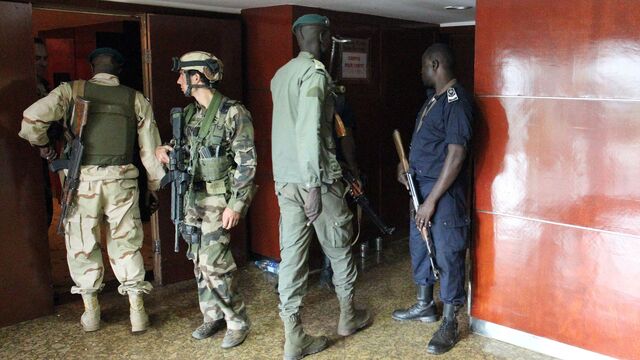 African nations will remain vulnerable to high-profile militant attacks like Friday's deadly siege of a Mali hotel and it will be difficult for them to prevent similar violence in the future, said General David Rodriguez, the head of U.S. Africa Command.
"The ability to conduct attacks on soft targets is going to continue to be a challenge," Rodriguez told reporters in Washington on Friday. It's "very tough to stop every single one of these."
Security forces stormed the Radisson Blu Hotel in Mali's capital, Bamako, on Friday, ending a siege hours after gunmen entered the hotel firing weapons and trapping as many as 170 people inside. About 20 civilians and two gunmen were killed, the army said.
While Malian and French forces have been fighting jihadist groups in northern Mali since 2012, Bamako had largely escaped the violence. Responsibility for Friday's attack, which came a week after Islamic State's deadly spree in Paris, was jointly claimed by al-Qaeda in Maghreb and the militant Morabetoun group.
Africa has seen some of the worst jihadist violence. Militant groups in Nigeria and Somalia carry out regular assaults on civilians and government officials, while in Kenya their attacks on a shopping mall and university in the past two years captured international headlines.
Agenda Pushing
The militants are trying to raise their profile with such attacks, spreading their ideology and attracting new recruits and financiers, said Rodriguez.
Nigeria's military, under the leadership of President Muhammadu Buhari since May and with the aid of a regional force, has made some progress against the Boko Haram Islamist group. Their operations have, among other things, squeezed the rebels' key sources of financing, which include robbing banks and military depots, said Rodriguez.
Still, Boko Haram has "killed and terrorized" more people in the last year than any other group, including Islamic State, he said.
Al-Shabaab, based in Somalia, is under pressure from an African Union force, which has been "disrupting" the group's efforts to carry through on threats of attacks, Rodriguez said.
Except for Libya, there's no major sign of growing links between Africa-based militants and Islamic State, he said. While Boko Haram has pledged allegiance to Islamic State and expanded its connections, it hasn't yet received "huge resources" from the group, Rodriguez said.
Before it's here, it's on the Bloomberg Terminal.
LEARN MORE