Mali's Rumbling Conflict That Led to the Hotel Hostage-Taking
Franz Wild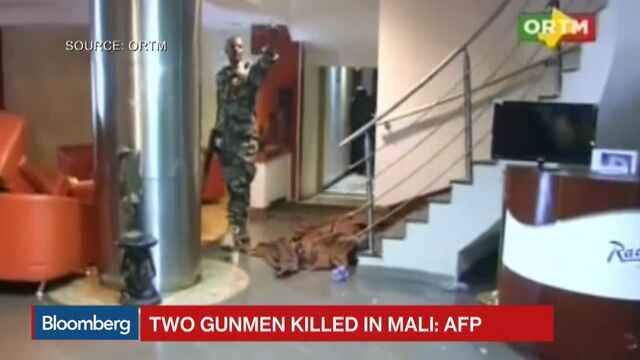 Gunmen on Friday took 170 hostages at the Radisson Blu Hotel in the Malian capital Bamako. The West African gold producer's troubles can be traced back to Libya's civil war. Here is an overview of some key events in the ongoing conflict.

2011 - Following NATO's air campaign on Libya and the ensuing civil war, arms and fighters formerly loyal to Muammar Qaddafi are absorbed by insurgent groups in northern Mali.
2012 - The National Movement for the Liberation of Azawad -- a rebellion by Touareg groups -- attacks the Malian army and gains control of towns in Mali's desert north. They join forces with Islamist militants al-Qaeda in the Islamic Maghreb and Ansar Dine.
March 2012 - Soldiers topple the government after 20 years of democracy, citing the government's failure to provide the resources necessary to fight the rebels. The Touareg rebels declare independence for Azawad.
January 2013 - French troops intervene as rebels come close to invading Bamako. The military steps down and Ibrahim Boubacar Keita is elected president. The French troops join a new United Nations stabilization mission in Mali.
March 2015 - Five people are killed in a grenade attack on La Terrasse restaurant in Bamako, the first such attack in the capital. The establishment was popular with expatriates. A French person and a Belgian are among the dead.
July 2015 - French special forces kill a senior Al-Qaeda operative, Ali Ag Wadossene.
August 2015 - Twelve people -- including five United Nations contractors -- die as Mali's army storms a hotel in the central town of Sevare where militants took hostages.
September 2015 - The insecurity is so bad that Mali delays local and regional elections scheduled for Oct. 25.