Photographer: Simon Dawson/Bloomberg
pursuits
Land Rover Defender Ends 70-Year Run Ferrying Farmers and Royals
By
`Go-anywhere' car canceled after 2 million sold since 1947

Emissions, pedestrian rules meant the end of the Queen's SUV
The Land Rover Defender is boxy, beastly and beloved. Early next year, it'll be history.
For seven decades, the Defender off-road vehicle has barely changed from a design so simple it was originally sketched in beach sand. Slabs of aluminum. A windshield with virtually no tilt. A roof rack made to hold steamer trunks or lion carcasses. A spare tire hanging off the back door.

That uncompromising approach has delighted customers from English sheep farmers to Winston Churchill and Queen Elizabeth II. The Defender has shuttled soldiers in the Korean War, Red Cross volunteers in crisis zones around the world and Lara Croft in the movie Tomb Raider. In January, its run will end, and the company hasn't said when there will be a replacement.
The 23,100-pound ($35,100) car synonymous with British country living has become as anachronistic as a fox hunt. Its raw metal surfaces are at odds with pedestrian safety standards. Its carbon-dioxide emissions are twice the European fleet standard, and it has no touchscreens, mobile connectivity or cordless phone charging. Airbags? Nice try.
"It's time to move to a new chapter," said Nick Rogers, Jaguar Land Rover's head of engineering, who learned to drive in a Defender. "We want to move forward with a new car."
Jeep's Bluetooth
Land Rover is losing its flagship because the brand relied too long on rural estate owners, ignoring the rise of soccer moms and urban adventurers. Its modest price tag meant modernizing the Defender made little sense, leaving it with just its authenticity as a selling point. By contrast, the Jeep Wrangler, a descendant of the World War II military vehicle, has been kept current with electronic stability control and Bluetooth connectivity.
---
In Pictures: The Last Defenders Roll Off the Production Line

After making more than 2 million of the workhorses the company will cease production in Solihull, England, in late January. By Elisabeth Behrmann
---
A successful relaunch of the Defender could follow the track plowed by Mini. Since being reborn under BMW AG, the offbeat British city car has grown into a global brand that includes an SUV variant and sells from Birmingham to Beijing. But the Defender's association with bone-jarring off-roading may make it more of a struggle to re-establish, and Land Rover already thoroughly covers the upscale SUV segment from the compact Evoque to the top-of-the-line Range Rover.
The Defender's demise comes as global demand for sport utility vehicles is set to soar 37 percent to nearly 26 million cars in 2018, according to researcher IHS Automotive. Jaguar Land Rover needs a bigger piece of that pie after reporting a 92 million-pound loss for the second quarter. Its answer has been Jaguar's first-ever crossover and the entry-level Land Rover Discovery Sport, its cheapest model at $37,455. 
Before the Defender rumbles off into the sunset, Land Rover will sell about 20,000 this year, IHS estimates, down from a peak of about 56,000 in the 1970s. Its total 68-year production run will be more than 2 million cars.
The prospects for Land Rover to squeeze in a new Defender will be tough as competition in the segment intensifies. Fiat Chrysler Automobile NV's Jeep is broadening its range with cheaper models such as the $17,995 Renegade. On the high end, Land Rover must contend with Maserati and Bentley entering the space as well as the burgeoning SUV lineups of Mercedes-Benz and BMW. Mercedes has its own heritage off-road vehicle, the G-Class -- though in contrast to the Defender, the Mercedes has enough fine leather and chrome to make it fit on the streets of Beverly Hills.

Land Rover and its parent company, Mumbai-based Tata Motors Ltd., face the challenge of developing a new Defender without losing the values of the original. While they've promised to overhaul and reintroduce the icon, they haven't said when it might resurface or whether production will continue at the factory in Solihull, England, where most of the assembly is still done by hand and there's a wall covered with personal memorabilia from buyers.
Key to the Defender's rebirth will be winning over city-dwellers with what its designer, Maurice Wilks, called a "go-anywhere, do-anything" vehicle. If it can maintain its quirky authenticity while adding new comforts and technology, Land Rover can hold on to old fans and win over new ones, said Franz-Rudolf Esch, director of the Institute for Brand and Communications Research at EBS Business School near Wiesbaden, Germany.
"What doesn't move with the times dies," Esch said in an e-mail. "The Defender must remain true to itself even as it reflects the Zeitgeist and the changing expectations of customers."
Waist-Deep Water

On a recent drive along Land Rover's back-country track near Birmingham, England, it's easy to see how the Defender gained cult status. It powered through nearly waist-deep water, trundled handily up the muddy inclines and survived a steep drop off a collapsed bridge.
The feel is very much last-century, with a comically large turning radius and a hand brake that sits uncomfortably low. The windows steam up almost immediately. But there's no denying the charisma, as Munich sales manager Stephane Anger will tell you.
"I wanted something different," said Anger, a father of three who gave up a BMW 5-Series sedan in favor of a black Defender, which he drives to his family's hut in the Austrian Alps. "The Defender has no trouble with any slope."
Watch Next: 2017 Range Rover Evoque, a Quirky Convertible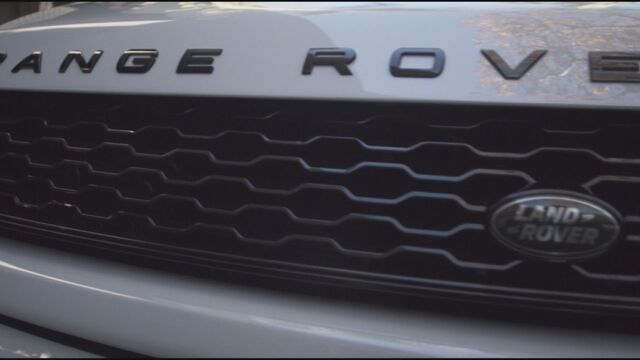 — With assistance by Benjamin D Katz
Before it's here, it's on the Bloomberg Terminal.
LEARN MORE