GM Labor Contract Wins Ratification as Work Rules Revised
David Welch
Accord was delayed by skilled-trades workers' opposition

Deal will keep labor costs stable, research center says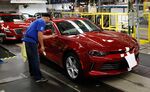 General Motors Co. finally got its agreement with the United Auto Workers ratified without adding significant costs to the contract after revising some work rules to appease the skilled-trades employees.
The accord hit a snag earlier this month: Even though a majority of UAW members voted in favor, the skilled-trades group -- which includes employees such as plumbers, electricians, millwrights -- within the union rejected it. UAW rules require approval from production workers and the trades group but gives the leadership override authority if there's majority support.
Union leaders met with GM and the company agreed to changes that protect core trades classifications and seniority rights, the UAW said in a statement Friday. The union's council of local leaders concluded that the skilled-trades issues were addressed and gave it their unanimous support.
The new contract, which includes raises for all and as well as bonuses and improved benefits, is expected to keep labor costs per vehicle stable for GM, according to the Center for Automotive Research. The pact lets GM use more temporary workers and with some of its older, higher-paid staff retiring, the company can replace them with lower-paid new employees and offset raises, a study by the center concluded.
"This contract is not a return to old ways," Kristin Dziczek, director of the Ann Arbor, Michigan-based center's industry and labor group, said Friday. "They will be able to replace a lot of workers at a lower pay rate."
Early-retirement offers will usher 4,000 workers out of the door over the next four years, Dziczek said. In recent years, GM's retirement rate among factory workers has been less than 5 percent and could reach 8 percent with the new contract, she said.
Cheaper Hires
As older workers making $28 an hour or more retire, GM will be able to hire replacements at $17 an hour. It takes eight years for the entry-level hires to work up to the wage earned by veteran factory hands, which will top $29 an hour at the end of the contract. The Detroit-based automaker can also use more temps, who make less money.
Another big offset for GM is that it gets to make some engines and transmissions in Mexico, where costs are lower, Dziczek said.
In voting that ended earlier this month, more than 55 percent of UAW members voted to accept the agreement. That included approval by 58 percent of the production workers, the larger group, while almost 60 percent of the skilled-trades workers opposed the deal.
"General Motors is pleased that the UAW membership ratified the 2015 UAW-GM National Agreement, which is good for employees and the business," the company said in an e-mailed statement.
The GM proposal was similar to the less-lucrative contract ratified earlier at Fiat Chrysler Automobiles NV. A tentative agreement with Ford, which offers a larger ratification bonus and expedited profit-sharing payout, was announced Nov. 6. That deal includes $70,000 early-retirement offers for some skilled-trades workers and as well as job-security provisions.
Voting by Ford workers is set to finish today, with results to be released Saturday. UAW officials said Wednesday that with at least three-quarters of the ballots in, 52 percent had voted against the agreement.
Before it's here, it's on the Bloomberg Terminal.
LEARN MORE