France to Keep Border Controls as EU Responds to Jihadi Threat
by , , and
EU nations to tighten outer border, boost intelligence sharing

Ministers meet in Brussels as militants attack in Africa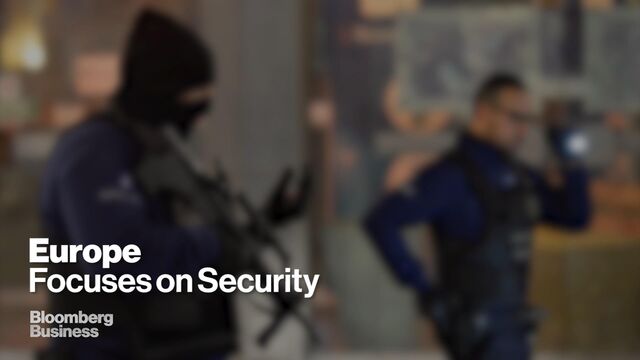 European Union governments agreed to tighten passport checks at the bloc's outer border in response to the Paris terror attacks and France said controls at its entry points will remain in place as long as the country faces a heightened threat.
After the hunt for suspected ringleader Abdelhamid Abaaoud exposed EU deficiencies in tracking jihadis' movements, the 28 countries also pledged at an emergency meeting Friday to step up intelligence sharing. French police had believed the Belgian national, killed in a police assault on his hideout near Paris, was in Syria at the time of the shootings.

"France will maintain the controls on its borders it set up on Friday as long as the terrorist threat requires us to do so," French Interior Minister Bernard Cazeneuve told reporters after EU interior and justice ministers met in Brussels, a week after 130 people died and about 350 others were injured in Europe's worst terrorist attack in a decade.
France coaxed its European allies into a united response after months of divisions over the EU's biggest refugee crisis since World War II. Law enforcement officials have warned of the risk of further attacks as the French seek to step up military action against Islamic State in its Syrian base with support from allies including the U.S. and Russia.
European ministers ordered "systematic and coordinated checks" of passports at the bloc's external borders starting immediately, extending to all citizens the full-blown screening that is currently limited to non-EU passport holders. They set a March target for governments to ensure that border officials can check the names of people entering the continent's Schengen free-travel area against European police databases.
Indispensable Measures
"Strengthening of the controls at external borders is indispensable for the protection of European citizens, especially in light of the recent terrorist attacks," Cazeneuve said.
The range of threats was laid bare in Mali, where assailants armed with automatic rifles took 170 people hostage in a hotel in the capital Bamako as the ministers gathered for talks in Brussels.
French and U.S. personnel entered the Radisson Blu Hotel, where a Malian military spokesman said at least 18 people were killed. Those abducted included 140 guests and 30 employees, Rezidor Hotel Group, owner of the Radisson, said in a statement on its website. French President Francois Hollande told a conference that everything was being done to free the remaining captives.
In Brussels, ministers also agreed to step up cooperation against arms trafficking and said they would share data on suspected foreign fighters. They called for fingerprinting of all migrants arriving in Europe illegally and demanded that EU passenger name-recognition legislation, blocked in European Parliament since 2011 by data privacy objections, be adopted by the end of 2015. PNR, or Passenger Name Records, have been required for all flights in the U.S. since 2001.
No Warning
"It's not only France that was attacked but the whole of Europe which is why we need a European response and this was given today," EU home affairs commissioner Dimitris Avramopoulos said. "France's approach has been listened to."
Earlier, French officials made little attempt to conceal their frustration with their European partners as they hunted for other attackers who may still be at large. "There is no European country which informed us of the presence of Abaaoud in France," national police chief Jean-Marc Falcone told France Info radio.
"We did more searches yesterday. We can't be sure if there aren't still members of the team, or new teams, on our territory," he said. "I can't tell you where Salah Abdeslam is. He was in Paris Friday night, and since then I can't tell you if he's in France or abroad."
Coalition Building
Germany's Interior Ministry confirmed on Friday that Abaaoud traveled via a German airport in January 2014. "As a Belgian citizen, he had the right to freedom of movement, so there was no possibility to stop him," ministry spokesman Tobias Plate said in Berlin. Belgian customs officials will be more heavily armed and step up checks of suspicious vehicles, Finance Minister Johan Van Overtveldt said on Friday in an e-mail.
Before it's here, it's on the Bloomberg Terminal.
LEARN MORE