Falling Oil Prices Aren't Deterring European Energy Stock Bulls
by and
Gap between equities and crude grows amid industry cutbacks

Brent trades near three-month low as stockpiles expand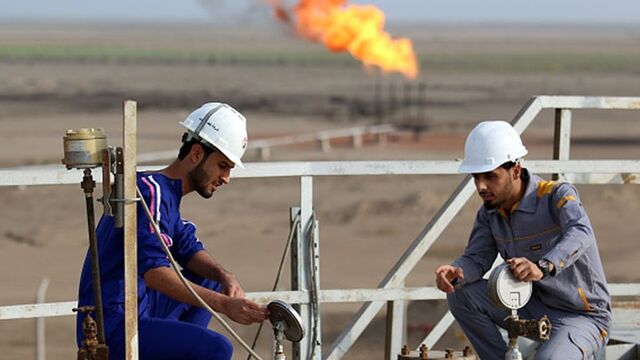 The cost-cutting campaign among European energy companies is paying off: Investors are buying up their shares even as oil prices drop.
Oil and gas producers in the Stoxx Europe 600 Index have rallied almost twice as much as the broader gauge since their September low, becoming some of traders' favorite shares. That's sent their valuation to a 10-year high relative to Brent crude, which fell below $45 a barrel.

Even as the global supply glut shows no signs of easing, investors are taking comfort in the industry's steps to weather the market slump. Energy producers are making their deepest cost cuts in three decades and are accelerating asset sales to maintain dividends.
"I'm more inclined to be constructive on the sector going forward," said Tim Rees, who helps manage 400 billion pounds ($612 million) as director of U.K. equities at Insight Investment Management in London. "The more you see companies responding in an aggressive and hence positive way, the better." 
Energy companies around the world announced spending reductions of $180 billion this year, the most since the oil slump in 1986, according to Oslo-based energy consultants Rystad Energy AS. BP Plc and Spain's Repsol SA have already sold assets and are planning billions more.
Scrip Dividends
While some producers have reduced their dividend payments, Europe's biggest -- Royal Dutch Shell Plc, Total SA and BP -- managed to keep them intact by offering scrip dividends, a payout in stock. Dividends are particularly important to investors in Stoxx 600 energy shares, which offer a payout yield of 5.2 percent -- one of the highest among industry groups. Rees said he's confident that oil companies will be able to pay dividends for the foreseeable future.
"Oil companies are evolving and are endeavoring to adapt to the new environment," said Jason Kenney, an analyst at Banco Santander SA in London.
European oil companies have rebounded 17 percent since their six-year low in September. That resurgence in popularity has sent their valuation to 16.2 times estimated earnings. Even though it's higher than the average in the past decade, that's in line with the multiple for the broader index.
Yet how long they can maintain that performance is uncertain. Global oil stockpiles have swollen to a record of almost 3 billion barrels because of strong production, potentially deepening the rout in prices, the International Energy Agency said last week. In the U.S., the world's biggest consumer, inventories are more than 100 million barrels above the five-year seasonal average, according to the Energy Information Administration.
Price Lid
That's keeping a lid on Brent prices, which have plunged 23 percent this year and trade near a three-month low. Oil probably won't recover its price of mid-2014 any time soon, putting into question the rebound in the companies' valuations, according to a Bloomberg Intelligence report this week.
"Given the slide in the oil prices, the question is being raised: how long can oil companies hold up?" said Jasper Lawler, a London-based analyst at CMC Markets Plc. "The reason they have been so far is that markets have been taking them on their word that they're cutting back on capex."
On the other hand, cutbacks in companies' spending could also eventually lead to lower oil production, raising prospects of a supply crunch in years to come, according to Axel Herlinghaus, a senior commodities analyst at DZ Bank AG.
"One gets the feeling that we're approaching the bottom of the sentiment and the price movement," Insight Investment Management's Rees said, referring to oil. "You have to take comfort to a certain extent from the assertions of the management that they will pay for the foreseeable. On that basis, one feels more inclined to hold."
Before it's here, it's on the Bloomberg Terminal.
LEARN MORE