Draghi Echoing 2012 Pledge Pushes Short Yields to Record Lows
by
Market reaction more muted with yields having already slid

ECB chief speech came an hour after German producer prices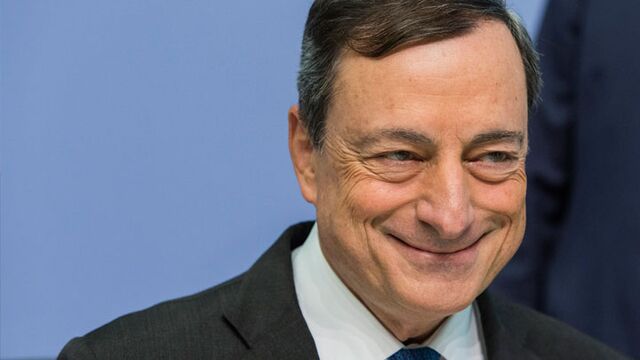 Germany's two-year notes rose, pushing the yield to an all-time low, after European Central Bank President Mario Draghi said the institution will do what's necessary to rapidly accelerate inflation.
That echoed words Draghi used at the height of the sovereign-debt crisis.

ECB officials "will do what we must to raise inflation as quickly as possible," he said Friday in Frankfurt. In his July 2012 speech in London, Draghi pledged to do "whatever it takes" to safeguard the euro, arresting a slide in Spain's two-year notes that had pushed the yield above 7 percent. With policy makers having signaled at their meeting last month that more stimulus may be on the way, the market reaction was more muted this time.
"The message was the same: they intend to do whatever it takes to raise inflation, and he said he wants to do that very quickly," said Rene Albrecht, a rates and derivatives analyst at DZ Bank AG in Frankfurt. "They want to over-deliver and surprise the market. It will have less strong impact on the long-end," meaning the longer-dated securities.
The amount of German government bonds that yield less than the ECB's deposit rate, the threshold for eligibility to its asset-purchase program, has risen to $492 billion, or more than 43 percent of the market, in an indication that traders have priced in another cut to that rate at the Dec. 3 meeting.
Inflation Mandate
Draghi's justified his determination, saying "that is what our price-stability mandate requires of us." The speech came about an hour after bonds were helped by a report that showed Germany's producer prices fell in October. Austria's two-year note yield reached a record low, and benchmark German 10-year yields fell for a second week.
Germany's two-year note yield were at a record-low minus 0.389 percent as of 4:58 p.m. London time. The price of the zero percent security due December 2017 was 100.805 percent of face value. Ten-year bund yields were at 0.48 percent, down eight basis points in the week.
Austria's two-year yield reached a record-low minus 0.32 percent. A negative yield means investors buying the securities now will get back less upon maturity than they paid.
Spain's two-year note yield fell one basis point to minus 0.01 percent, compared with a euro-era high of 7.147 percent the day before Draghi delivered his now famous speech in 2012. The nation's 10-year yield fell five basis points to 1.64 percent.
Before it's here, it's on the Bloomberg Terminal.
LEARN MORE