$3 Natural Gas Now 2 Years Off as El Nino Swells Inventories
by
`Pessimism' now prevails through next winter, Viswanath says

Shut-in production in Appalachia will push back a rebound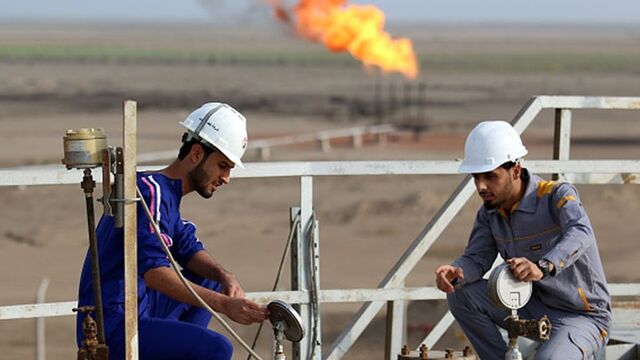 The outlook for U.S. natural gas's recovery got worse this week and you can blame the usual suspects: weather and record inventories.
Futures weakened across the forward curve with gas being sold for less than $3 per million British thermal units until January 2018, based on contracts sold on the New York Mercantile Exchange. A week ago, deliveries for January and February 2017 were priced above $3.
So what happened? 
A government report Thursday showed that gas inventories last week soared to an all-time high of 4 trillion cubic feet, crossing a psychological threshold for analysts and traders. The mild weather that contributed to the record may stick around this winter thanks to El Nino, a weather pattern associated with above-normal temperatures in the Northeast and Midwest, the biggest consumers of heating fuels.
"It's not just about this winter," said Teri Viswanath, director of commodities strategy at BNP Paribas SA in New York. "El Nino pushed that pessimism into next winter. Now $3 is off the board until 2018."

Gas slid 13.1 cents or 5.8 percent to close at $2.145 per million British thermal units on the New York Mercantile Exchange, the lowest settlement since Oct. 28. Gas prices tumbled 9.1 percent this week, capping the biggest decline since the week ended Jan. 29.
Meanwhile, gas production will increase 6.3 percent this year to a record 79.61 billion cubic feet a day, expanding for the 10th straight year, U.S. Energy Information Administration data show. Output is rising as drilling becomes more efficient and new pipelines link wells at shale deposits such as the Marcellus and Utica in the East to consumers. Average daily output will rise by 2 percent next year to 81.20 billion.
Supplies expanded even as U.S. drillers cut rigs down to a record low 193 last week, Baker Hughes Inc. data show. Northeast drillers have also curtailed about 900 million cubic a day of production because of low gas prices, Williams Cos., the Tulsa, Oklahoma-based pipeline operator, said in a presentation last month.
Wiping out the backlog of uncompleted wells and the return of shut-in wells will boost output next year, Viswanath said.
"The storage situation is worse than it's implied in our weekly storage number because we know that the Appalachian Basin has become a de facto reservoir," Viswanath said.
Forecasts for mild weather amid the supply glut led Dominick Chirichella, senior partner at the Energy Management Institute in New York, to change his view on gas "back to cautiously bearish" from neutral as recently as Tuesday, he said in a note to clients Friday. 
"The market remains oversupplied and inventories are now at a new record high level for this time of the year," Chirichella said.
Before it's here, it's on the Bloomberg Terminal.
LEARN MORE