Bombardier Investment an 'Evolution' in Governance, Sabia Says
Scott Deveau
Caisse CEO says Montreal plane and train maker will see change

Fund will be able to exert influence on division and parent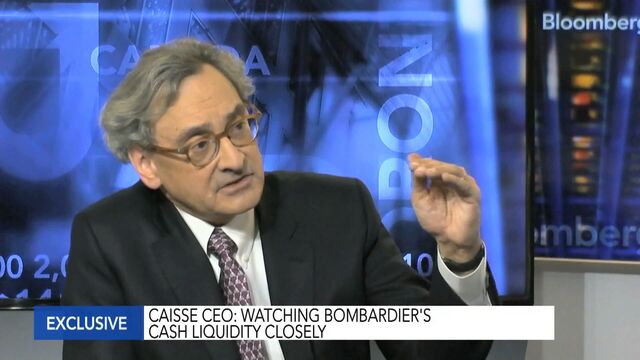 Bombardier Inc. took an important step in the "evolution" of its governance this week as part of an agreement reached with the Caisse de Depot et Placement du Quebec, according to the head of the fund, Michael Sabia.
The Quebec pension fund agreed to invest $1.5 billion for a 30 percent stake in Bombardier's rail division Thursday to help alleviate a cash crunch from cost overruns at the company's aircraft programs. The investment adds to the $1 billion cash infusion the Quebec government has made in the company's embattled CSeries jetliner program.
"I think you see in it an evolution, the beginnings of an evolution, in the governance of the company," Sabia said in an interview Friday with Pamela Ritchie on Bloomberg TV Canada. "Governance is important because governance at the end of the day is about performance."
 
Members of the Bombardier and Beaudoin family of Quebec control the manufacturer through its dual-class share structure by controlling 54 percent of the voting rights in the company despite only owning 14 percent of its equity.
Under the deal with the Caisse, the pension fund is able to exert influence not only on the board of the train division but also on the parent company, including having input on the appointment of independent directors at the parent, Sabia said.
'Execution Focus'


The deal also stipulates that if Bombardier's cash position falls below $1.25 billion, a special committee will be struck to find a way to restore that level of liquidity. The controlling shareholder in the company has agreed to follow that plan, the Caisse and Bombardier have said.
Isabelle Rondeau, Bombardier spokeswoman, declined to comment.
There are several performance incentives built into the agreement which should help improve the performance of the company, Sabia said. He pointed to the delay the City of Toronto has faced getting its new streetcars as an example of the execution problems at the company.
"The execution focus of the business needs to be turned up a couple of notches," Sabia said. "The time has come to build a strong performance culture inside Bombardier overall, and certainly, from our perspective, in Bombardier Transportation."
Sabia said Bombardier's new chief executive, Alain Bellemare, is on the same page as the Caisse and supports the efforts to improve performance.
The Caisse is Canada's second-biggest pension fund with C$240.8 billion ($181 billion) in assets under management.
Before it's here, it's on the Bloomberg Terminal.
LEARN MORE