Alinea Chef Grant Achatz Picks Best Burgers, Sushi, Pizza in Chicago
Chicago is a fine city for dining. But where do chefs go to eat?
By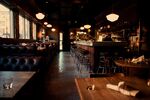 Grant Achatz usually cooks at home for his sons. When they go out, they like to bounce around Indian and Chinese restaurants and favor casual food. 
Achatz, who holds three Michelin stars at Alinea, and also owns Next and the Aviary, shared his thoughts on dining out in the city during a longer interview about Alinea's planned residency in Madrid.
Here's what he had to say, with a little prompting on particular cuisines:
"I like Yusho. Matthias Merges is a great chef. He was executive chef at Charlie Trotter's for years. It's Japanese yakitori primarily.  One of the great Japanese restaurants is Katsu. It's probably our favorite restaurant in Chicago. And it's a husband-and wife-team. They've been there for more than 20 years and not that many people know about it because it's way north. Just awesome sushi, like the best sushi I've had outside of New York, LA and Japan.
"For a burger, I enjoy Au Cheval. (Owner) Brendan (Sodikoff) used to work at French Laundry and he's done a really great job in the city, opening very focussed projects. Au Cheval is a place where they have no qualms about giving people what they want. You get the burger and the burger is awesome.  They buy in the patties and they don't hide that.

"Typically if I 'm in Chicago I'm in my restaurant: I eat out more in New York than I do in Chicago. But I like the Bristol . It's kind of like the Spotted Pig (in New York): Charcuterie, a lot of pork products, farm- to-table type cooking.
"I have two young boys 14 and 12 and the restaurants are all closed on Monday and Tuesday, so usually I cook at home with them. If we go out, we go up to Devon (Avenue) and we have Indian. We don't have a favourite Indian restaurant: We just bounce around. For Vietnamese, we go to a place called Tank Noodle and we go have rice paper rolls and all that stuff. Or we go to Chinatown. We go down to Archer street and just bounce and they are all good.
"Mexican?  It seems clichéd but (chef Rick) Bayless:  You go to Frontera (Grill) and it's awesome. But, then again, if you go into the neighborhoods you can find some casual Mexican cuisine that's really great. South American? I went to Tanta when it opened about a year and a half ago. It's (chef) Gaston Acurio and it's very good. Other than that, there's not a whole lot of Peruvian going on here yet. It will come.
"Chicago deep-pan pizza? I've had a change of heart recently. I used to like it and now I don't. It's too doughy. I prefer thin-crust. The best deep-dish, the best place to find it, would be Pequod's up on the west side. They have this cast iron pan they bake it in and the crust gets really crispy. That's where you should go."

Richard Vines is chief food critic for Bloomberg. Follow him on Twitter @richardvines
Before it's here, it's on the Bloomberg Terminal.
LEARN MORE