Autos
Chevy's New Camaro Is Good Enough to Threaten Mustang
With the same engine as a Corvette and tight, aggressive tuning, this is the American muscle car for you.
By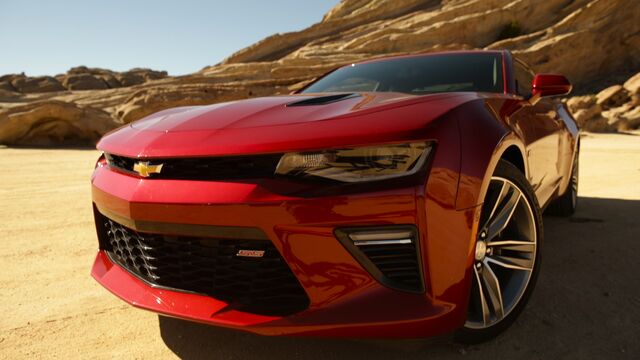 Odds are you're either a Mustang person or a Camaro person.
Sure, there's a small number of swing voters in the middle, but automakers have long known that most buyers have their minds made up when it comes to which piece of American muscle they want to own.

So the best thing Chevrolet could do when it introduced a new model would be to delight its existing die-hards and swing the undecideds. It's done just that with the 2016 Camaro SS. 
The new front-engine, rear-wheel-drive coupe is the closest version of a true sports car that we've ever seen from Camaro. The makeover comes thanks to several nice things borrowed from its luxury sisters: The Camaro SS offers the same 455-horsepower, 6.2-liter V8 engine as the Corvette Stingray (with just a drop in torque), and it uses the same chassis as the one in Cadillac's excellent ATS.

It comes with a manual-six or an automatic-eight transmission, multiple drive modes, and an adjustable magnetic-ride-control suspension system. Combined with a small-diameter steering wheel, it far exceeds the steering precision of any other modern muscle car. The car can go zero to 60 miles per hour in 3.9 seconds. Top speed is 160 mph.
Chevy has also made the 3,685-pound manual Camaro more than 220 pounds lighter than last year's SS coupe, which helps its efficiency. (The automatic weighs a bit more, at 3,760 pounds.) The guy from Camaro who dropped the car with me couldn't help bragging about its 28 mph highway-efficiency rating.

All of which combine to give the car an exact, powerful, and balanced driving effect. Point the steering wheel just slightly, and it follows immediately; press the gas, and it'll surge forward with a roar; jump on the Brembo brakes or swerve through traffic, and it's always exactly with you, not a hair forward or behind. The Camaro SS is a tighter, more aggressive, more powerful driver than the Mustang GT. It's the car you want when you feel the need to demolish desert roads like I did.
Some have criticized this new Camaro as underdesigned, to which I say yes and thank you. Earlier versions looked embarrassingly macho—too bloated and gnarled to be really athletic. But this, with its smaller front grille, sharper hips, gaunt sides, and sculpted roofline tapering toward the rear, looks lean. It looks effective. It is effective.

Inside, Chevy has given us more good things: an 8-inch touchscreen that's relatively easy and fun to use, despite being tilted slightly down at an awkward angle. It combines every function on your smartphone in a unique configuration that lets you control features such as Pandora, navigation, and calls. Along the doors are light strips that pulse colors according to your choice from an extensive palette—I can't imagine many guys wanting the blush pink, seafoam green, or peachy options for the inside of their Camaro, but they're available if they want them.
Now the downsides: The visibility through the rear window is not good. Not good at all. Nor are the side mirrors exceptionally well-placed. And the back seat leaves literally no place for a passenger to put his legs, if the person in front expects to be able to sit with legs unbent.
I'd go so far as to say you should never get in the back. Just don't even try. Those front seats are covered in rich leather (for Chevy), outfitted with heaters, and comfortable enough in an ergonomic way that allows for, say, eight hours of steady driving in the California desert with virtually no fatigue. I can speak from personal experience on that.
Yes, the leather and the heaters cost extra. As do the navigation system with Bluetooth, performance exhaust system, and 20-inch aluminum wheels I had on mine. Total cost of the car I drove was $47,470. It's a lot more than the SS's $37,295 base price, and the $33,295 base price of the Mustang GT. And it was completely worth it.
Before it's here, it's on the Bloomberg Terminal.
LEARN MORE